The man who broke the Guinness Book of World Records for most mini-baubles in a beard said the endeavour was "so painful" but "the price of glory." 
Joel Strasser from Idaho has earned a global reputation in recent years as the man who can stick stuff in his beard. 
He currently has the record for most toothpicks, chopsticks, forks, paper straws and pencils. 
He previously had the record for most baubles but decided he could better his own record. 
"It's because my technique got better," he proudly told Moncreiff. 
"I get better at technique every time, I think I could do more than 710 now. I have learnt better ideas on how to fit in more every time I do it." 
This time he attached 710 but found clipping them all on it "quite a tedious" process. 
"I don't know if I ever want to do it again because it's so painful and annoying to do but it is fun when it's all done," he added. 
Taking them off was also something of an ordeal. 
"It took about two and a half hours to get all of them in there," he said. 
"And with all the other records I've done - or most of the others - when I'm finished I can just shake my face and everything just flies out. 
"But with this one, because of the little clips, it over an hour to get them all out again."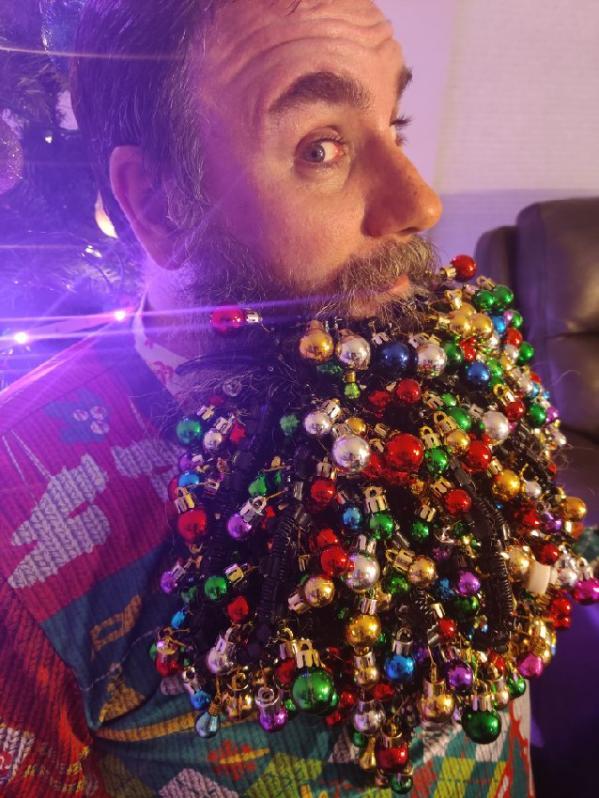 While uncomfortable, he views it as the "price of glory" and started because he thought it would be a fun thing to film for his YouTube channel. 
"[I decided] I'm just going to try it, going to see how close I can get and I'll get a funny video and I managed to break his record because I figured out a technique that worked good," he recalled.
"Once I broke that record, I was like, 'Oh, man, what else can I do?'"
"I could not wait to get them out."
And his desire for glory has not abated; next he plans to put 2,000 q-tips in his beard.