Released in 1990, the children's book Shrek! was written and illustrated by William Steig, the much beloved illustrator and novelist.
The story of the book is slightly different, with Shrek (based on the German word "Schreck", meaning "fear" or "fright") leaving his home of his own accord in order to see the world, and from there getting caught up in the plot to save a princess.
Just one year after the book was published, Steven Spielberg bought the rights to it, and initially had planned a traditional, 2D animation adaptation of the story. However, in 1994, he co-founded Dreamworks Pictures, and one of his partners Jeffrey Katzenberg discussed approached the project in a new light.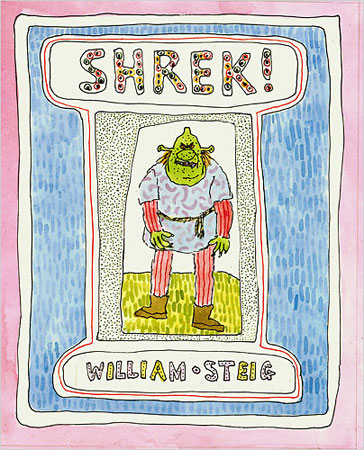 After the relatively successful likes of Antz in 1998, Dreamworks wanted to compete with the type of movies that Disney were creating with their new animation partners Pixar, and from there, the new vision of Shrek became a reality.
First time director Andrew Adamson had only previously worked as a special effects supervisor on the likes of Batman Forever and A Time To Kill, before being offered the co-director's chair initially with Kelly Asbury, who soon left the project to work on another Dreamworks project, Spirit: Stallion Of The Cimarron. She was replaced by Vicky Jensen, who had been a storyboard artist on previous Dreamworks animated movies The Road To El Dorado and Chicken Run.
Once the traditional animation version had been ditched, the next plan of action was to shoot the film using motion capture, but the initital results of the visuals were pretty much disastorous, so the more obviously computer-generated look was then settled on.
In Spielberg's version, Bill Murray was lined up to voice Shrek and Steve Martin would provide the voice work for Donkey, but casting the new version went in a direction. Initially, Nicolas Cage was approached to voice Shrek, but turned it down because, as he told Today in an interview about the decision, "When you're drawn, in a way it says more about how children are going to see you than anything else, and I so care about that."
Next up, Chris Farley was cast to voice the titular character, and he even recorded as much as 90% of the dialogue, before he passed away in 1997. Some early recordings of Farley's performance were unearthed years later.
Janeane Garofolo had also been cast in the movie as Princess Fiona, but was eventually replaced by Cameron Diaz. Years later, when on the promotional campaign for Pixar's Ratatouille, she was asked about the situation: "I was never told why [I was fired]. I assume because I sound like a man sometimes? I don't know why. Nobody told me ... But, you know, the movie didn't do anything, so who cares?"
Next, Dreamworks turned to Mike Myers, who had just achieved a return to fame thanks to the first Austin Powers movie. Myers first requested a complete rewrite of Shrek's character, to leave behind no trace of Farley's version of Shrek. Then, several months into recording sessions, he requested that all his lines be re-recorded with the Scottish accent we now know Shrek as having, which reminded Myers of the accent his mother used to use with him as a child when she was telling him bedtime stories.
The film was eventually released on May 16th 2001, and an a budget of $60 million, opened to $42 million in the States alone, before going on to make $484 million worldwide. When it was released on home entertainment formats, the usual release day (a Tuesday) was switched (to a Friday), on November 2nd 2001, which also just happened to be the same day that Monsters Inc. was released in cinemas. Disney execs were claimed to have thought this was an underhanded way by Dreamworks to distract from their new cinema release, but Monsters Inc. still went on to break the then record for animated weekend with it's $62 opening weekend.
Shrek had the last laugh though, making over $100 on it's home entertainment release, and going on to sell more than 5.5 million copies, considered to be one of the biggest selling DVDs of all time.
It also won the first ever Best Animated Feature at the 74th Academy Awards, defeating competition from Jimmy Neutron: Boy Genius (remember that one? No, us neither) and, yep, you guessed it, Monsters Inc.
Sequels were to follow: the almost as good Shrek 2 in 2004 (which went on to make just shy of $920 million at the box office), the really quite bad Shrek The Third in 2007 ($799 million) and the just okay Shrek Forever After in 2010 ($752 million). There was also the underappreciated prequel/spin-off Puss In Boots in 2011 ($555 million).
Initially, Katzenberg had envisioned the series as a five-parter, but during the production of Shrek Forever After, it was opined that it was the proper way for the series to close out. However, when asked recently about the franchise, Katzenberg told Fox Business Network that "We like to let them have a little bit of time to rest. [...] But I think you can be confident that we'll have another chapter in the Shrek series. We're not finished, and more importantly, neither is he."