Damien Delaney faced many of the Premier League's all-time great strikers during his Crystal Palace days.
From Luis Suarez to Sergio Aguero, a whole host of striking talent have graced the top flight.
But for an XI of toughest players to face, the ex-Ireland and Palace defender had more than just strikers to choose from.
So on Wednesday night's Football Show, Delaney revealed his XI of players he faced during his career.
Damien Delaney's Team of the Decade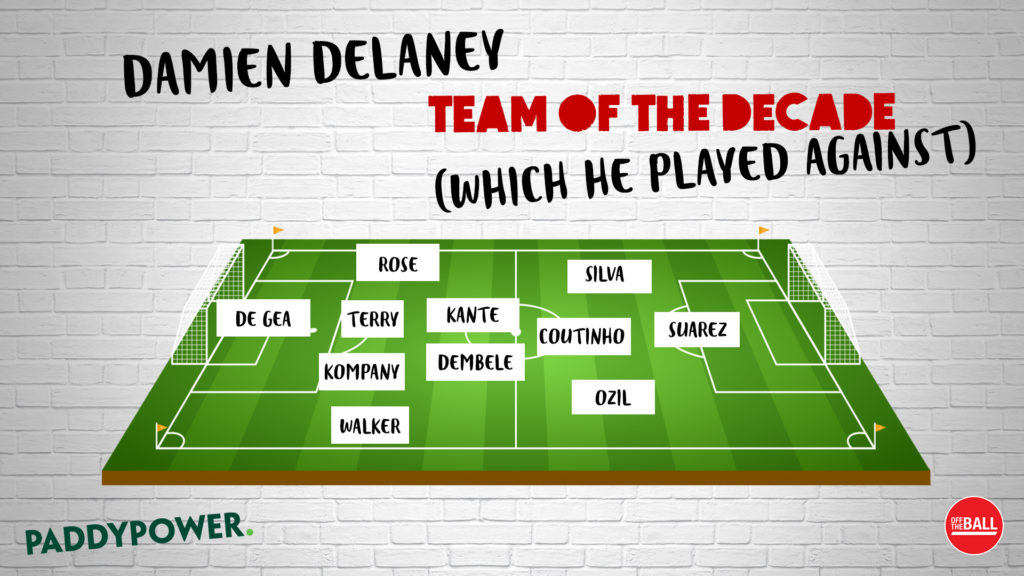 But why did this final XI above rise above the other potential candidates?
A few jump out like Manchester City and England's Kyle Walker. He's an "absolute machine" from personal experience according to Delaney.
"His high intensity running was insane. He was up and down that right wing at sprint pace all game," said the Cork man.
He also had high praise for Vincent Kompany and how he would "bull rush" you at corners.
"And he was a big man! He was the same height but he was about twice as wide as me!"
Meanwhile, ex-Chelsea captain John Terry was "coolness personified" at the back. Left-back was one where there was no outstanding candidate but Danny Rose's consistency over the decade pipped him over Patrice Evra and other players he faced.
Dembele
While N'Golo Kante isn't a surprise in midfield, ex-Tottenham midfielder Mousa Dembele made a real impression on Delaney.
"Even at Fulham, he was brilliant. I mean, I've never seen a guy be able to take the ball and just not care about who's tackling him. He could run with the ball with you on his back," he said, adding, "I think he's the type Spurs are missing now".
But on Kante, he also revealed that after Palace faced him in his first season with Leicester, the Eagles players left the field going, "Oh, my God! Has anyone seen anything like that in their whole life before?"
He also admitted he was in "awe" of Mesut Ozil and had a "man crush" on his playmaking abilities for a time at Arsenal.
"You could never get near him, he ghosted. You would try [to nullify him] but he just ghosted," he said.
Delaney also added that Philippe Coutinho worked harder than some may perceive off-the-ball. He also rates David Silva "as the best player in the last 10 years in the Premier League".
Finally, Suarez was "unplayable" in his final season at Liverpool. He also discussed the players that just missed the cut.
You can watch the full chat with Damien Delaney via our YouTube channel.