Former Ireland women's captain Niamh Briggs feels adding some unpredictability to their attacking play can help transform Ireland's fortunes in the Six Nations. 
Andy Farrell's side kicked the ball from hand 76 times in the back-to-back defeats to Wales and France and have averaged the second fewest points per 22 entry of any teams in this year's Championship, behind only tomorrow's opponents Italy.
Last night, Brian O'Driscoll urged the team to take more chances in terms of offloads and riskier passes in order to unlock opponents in the rest of the tournament while Andy Dunne feels the current attacking philosophy is neither entertaining nor effective.
As Ireland prepare to inflict a 30th straight defeat in the tournament tomorrow, Briggs told OTB Sports that she feels a shift in mindset is needed to make the team harder to defend against.
"What they've done well so far, they have to keep doing well - their set-piece, the breakdown and ball retention," the ex Munster back told Ger Gilrory on tonight's Off The Ball.
"The things we need to see progression on is more ball in hand and an ability to try and move the Italian defence around. I think that's something which we've lacked severely.
"We haven't really tried anything as a second receiver, or second playmaker. It's difficult because defences are so tight now and they rush everybody.
"I watched the Super Rugby match between the Crusaders and the Highlanders this morning and that Crusaders defensive line was ridiculously quick.
"Yet the Highlanders' players never had an issue with getting the ball to the edge, never had an issue at looking for a little dink. For me it's that ability to be able to play at the gainline and have soft hands around contact, it makes it so much more difficult for a defence to be able to shut you down properly.
"It also makes it so much easier for the attack but you're able to change the direction all the time. Codie Taylor scored an amazing try but it was all made from Sam Whitelock's really good hands and a little deft touch.
"We're missing that little link, and it's easy to say it all comes down to the backs or the forwards. It's not a two-tone thing, it's very much a connected thing, it's a whole squad issue."
Reactionary rather than predictive in attack
Ireland's attack coach Mike Catt said this week that they're working hard to try and improve the players' decision-making process in order to capitalise on the opportunities they've been making in recent games. Briggs feels the team have been taking conservative options rather than predicting where space could emerge.
"It was interesting to hear the coaching ticket come out this week and put the onus back on the players in terms of their lack of execution.
"They feel they've created a lot of chances that they haven't finished. When I went back and watched some of the games, we have created but it's not been in the scoring zone.
"The chances or overlaps have been between our 10 metre line and their 22m. There's been incidents where if we had been more predictive rather than reactionary, if we had predicted where the ball was going to go in space then we might have had different outcomes.
"If you look at some of the best teams in the world, they seem they seem to be confident that the ball will get there so they cut 'cheat lines' across the park to be in space and ready for the offload.
"The Irish attack doesn't trust that there's going to be an offload or a pass, so we're more reactionary. Is it gone so prescriptive that they don't think outside the box?
"I'm not saying it's a coaching thing, maybe it's the fact that the majority of these players have been playing in a similar way for so long.
"It takes a lot of time to change that mindset so that they do trust themselves to be able to do it. Sometimes when things aren't going your way, that can feed into your squad and you second guess yourself subconsciously and don't make that extra half break or throw that pass.
"For a long time I've been saying that Ireland have some very good players but we don't utilise them in the way we should."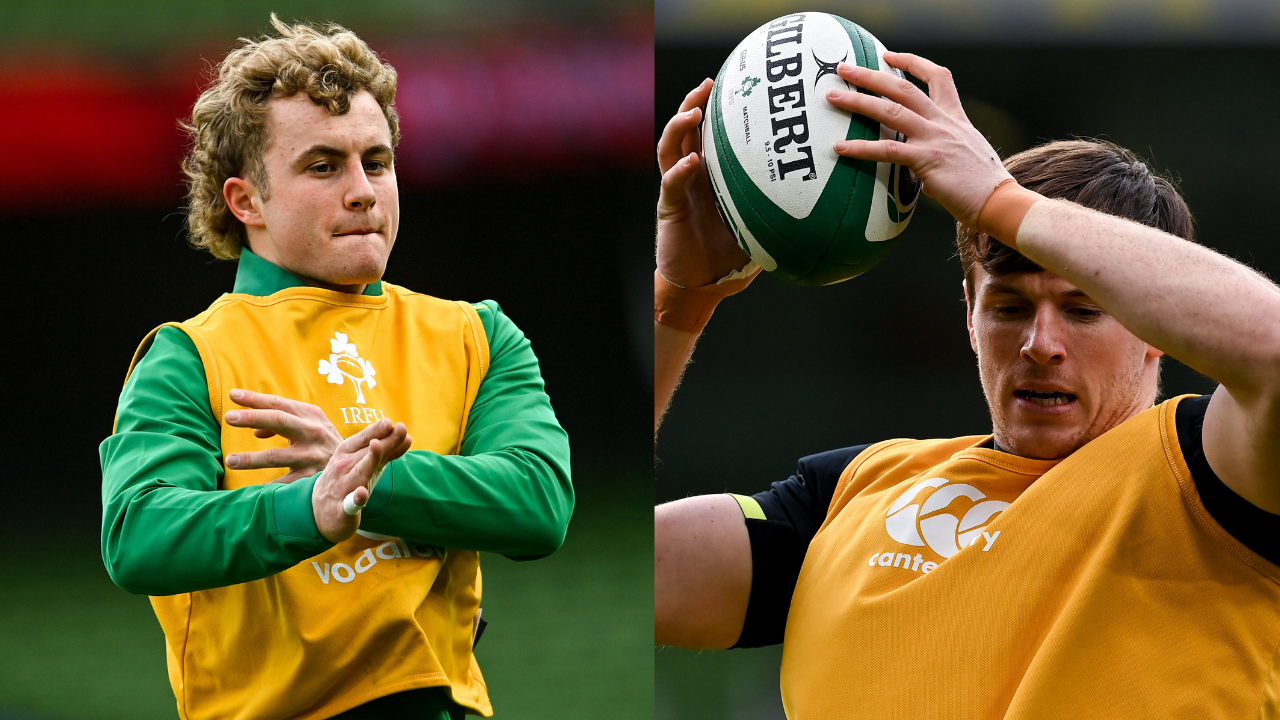 Chance for Casey and Baird from the bench
Uncapped duo Craig Casey and Ryan Baird are both among the replacements for tomorrow's match at the Stadio Olimpico and Briggs is hopeful that the youngsters will be afforded a reasonable chance to impress.
"Ryan Baird is so athletic, his ability to cover ground, his stride length is phenomenal but also his ability to do the basics.  You'd love to see him and Craig Casey get a good run tomorrow, you're talking 20-30 minutes, not just a four or five minute run off the bench.
"This is a perfect opportunity for them.  You'd expect Ireland to be winning and to have opened up Italy by the 60th minute, give them that run and allow them come into a no pressure situation and let them enjoy it.
"I've been lucky to get to see Craig Casey in person a few times this year while commentating on Munster games. He's yappy, he likes to boss people around but he's backed it up with some unbelievable things in terms of his ability to spot space.
"He reminds me a bit of Gibson-Park in terms of his ability to hold in a defender in order to create a little pocket of space and his passing is excellent. He's not afraid to mix it even through he's not the biggest.
"I really like that Andy Farrell gave him a boost in the media this week, he played really well for Munster last week and hopefully there's game-time for him tomorrow."
Team of Us. Everyone In.
Vodafone. The main sponsor of the Irish Rugby Team