The Dutch football association - the KNVB - will consult with UEFA after deciding that the current Eredivisie season cannot be completed.
Football in the Netherlands has been suspended until at least September 1, even without fans present.
A KNVB statement says they will discuss the decision with clubs and other stakeholders at a meeting on Friday.
Four of the Eredivisie's top-6 still have thirteen games left to play, while the rest have twelve left on their slate.
Ajax and AZ are separated at the top only by goal difference.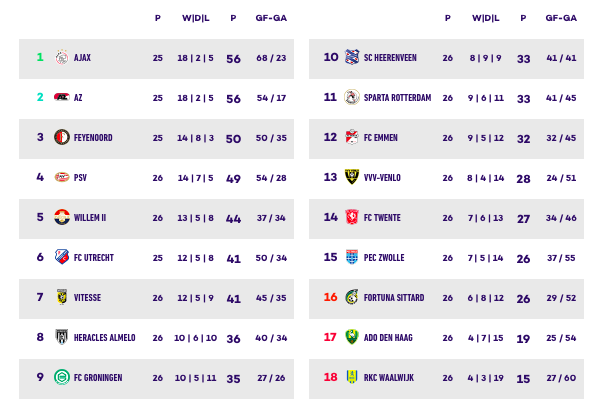 RKC Waalwijk stand to be relegated as things stand, they're four-points adrift of Alan Pardew's ADO Den Haag.
On Tuesday, UEFA opened the door for leagues to end their season early in special cases" where it would be better to conclude prematurely as a result of coronavirus.
But the KNVB must now decide if a title is to be awarded, if there will be relegation and promotion, and who will represent the Netherlands in European competition next season.
The association stipulated that they have not definitively ended the season.
Current leaders Ajax say it "regrets" the decision to end the season, but says it was inevitable in the interests of public health.
PSV director Toon Gerbrands echoed those sentiments, adding, "The decision that it is not possible to play for the time is not unexpected."
The KNVB concede that "the fact that football cannot be played until September 1 brings enormous challenges in organisational, sporting and economic terms."
The association adds that "Next Friday will be discussed with those directly involved about the further consequences of the intended decision not to play the 19/20 competition".
Advocaat extension
Meanwhile, Feyenoord have announced that Dick Advocaat will remain as manager of the Rotterdam club next season.
Both parties have agreed to a 1-year extension of the 72-year old's deal.
Advocaat was appointed as Feyenoord boss on October 30 of 2019 following the resignation of Jaap Stam.
The extension means Advocaat will reach 40-years of management.