In an era where commercial incentives drive the upper echelons of the GAA, Diarmuid Lyng is calling for greater consideration of more elemental issues. 
In the years since Diarmuid Lyng ceased playing inter-county hurling with Wexford, he has come to appreciate that certain facets of the GAA are in need of revision.
"As the GAA moves more and more, at the top level at least, toward a more corporate version of the game," Lyng posited on Wednesday's OTB AM, "I think that we have to find a possibility to re-root.
"People often complain about this 'win at all costs' culture, but sometimes I think the solutions take place within the same culture.
"By looking outside, there are some natural answers waiting for us if we just could be silent enough to listen.
"I think the Ash Dieback disease represents that possibility."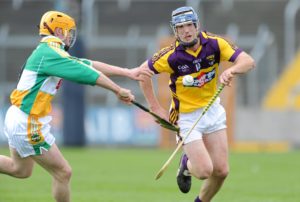 A fungal pathogen that can (and currently is) having a fatal effect on Ireland's significant portion of Ash trees, Ash Dieback, afflicting as it does the very material from which hurleys are constructed, offers a suitable starting-point for Lyng.
"Do we have a responsibility to the Ash tree that has given us this responsibility to play this game," Lyng asked, "do we sincerely have a responsibility to it? I believe we do."
In the GAA and the many, many followers it has across the country, Diarmuid Lyng believes there is a ready-made army of planters in place to tackle the issue of Ash Dieback, and re-acknowledge an element of a communal spirit that seems somewhat more foreign in a commercially-driven field.
"100-years ago we needed a military army, now we need a different type of army, and we have that in the GAA," Lyng stressed.
"Are we willing to come together as a community, take responsibility for the Ash tree?
"In that very action, there is a re-rooting in something that is bigger than the game.
"The disease is the medicine, it's giving us the opportunity to look outside of our small human world and reconnect with the greater world."
"We have a responsibility to save the Ash tree"

Talking hurling well beyond the weekend's matches, @diarmuidlyng encourages the GAA to enact an Ash-saving initiative.

Full interview 👉 https://t.co/mLYXHAmdPU pic.twitter.com/IwNYZJK0W8

— Off The Ball (@offtheball) May 15, 2019