Cork City defender Alan Bennett has announced his retirement, bringing the curtain down on a 20-year football career at the age of 39.
The Cork native had two spells with his hometown club, winning one Premier Division title in each one while he also won two FAI Cups on his return from England where he played for several clubs.
In 2006, Bennett was sold to Reading six years after making his debut as an 18-year-old with the Leesiders but never played a senior game for the Royals.
He was loaned out to Championship club Southampton where he made 10 appearances before moving on to play for League Two Brentford, with whom he achieved promotion after making a permanent switch, Wycombe Wanderers, Cheltenham Town and Wimbledon.
Bennett was also capped twice for the Republic of Ireland under manager Steve Staunton in the US Cup matches against Bolivia and Ecuador in May 2007.
Manager John Caulfield brought the then-Wimbledon skipper back to his first club at the age of 33 where he enjoyed great success winning the FAI Cup in 2016 before a league and cup double the following year.
Bennett announced his decision to retire on Tuesday afternoon in a letter posted on Cork City's official social media channels.
"A final goodbye letter to professional football. Firstly, thank you football, you took a country boy from Ballinora and showed him the world," he wrote.
"Let him see and experience things that now when he looks back on, he doesn't believe happened to him. To my family I hope I made you proud, it was without doubt my sole focus. We had great days out. As a paradox, I was selfish as a brother and son.
"To my wife, thank you. The conversations I wasn't fully in, the walks I couldn't go on the endless foam rolling and ice packs in the freezer. The cancelled events due to a moody manager, the last-minute change of plans. The living to the fixture list and the constant uncertainty. It also gave us incredible memories and opportunities, many more of these to come."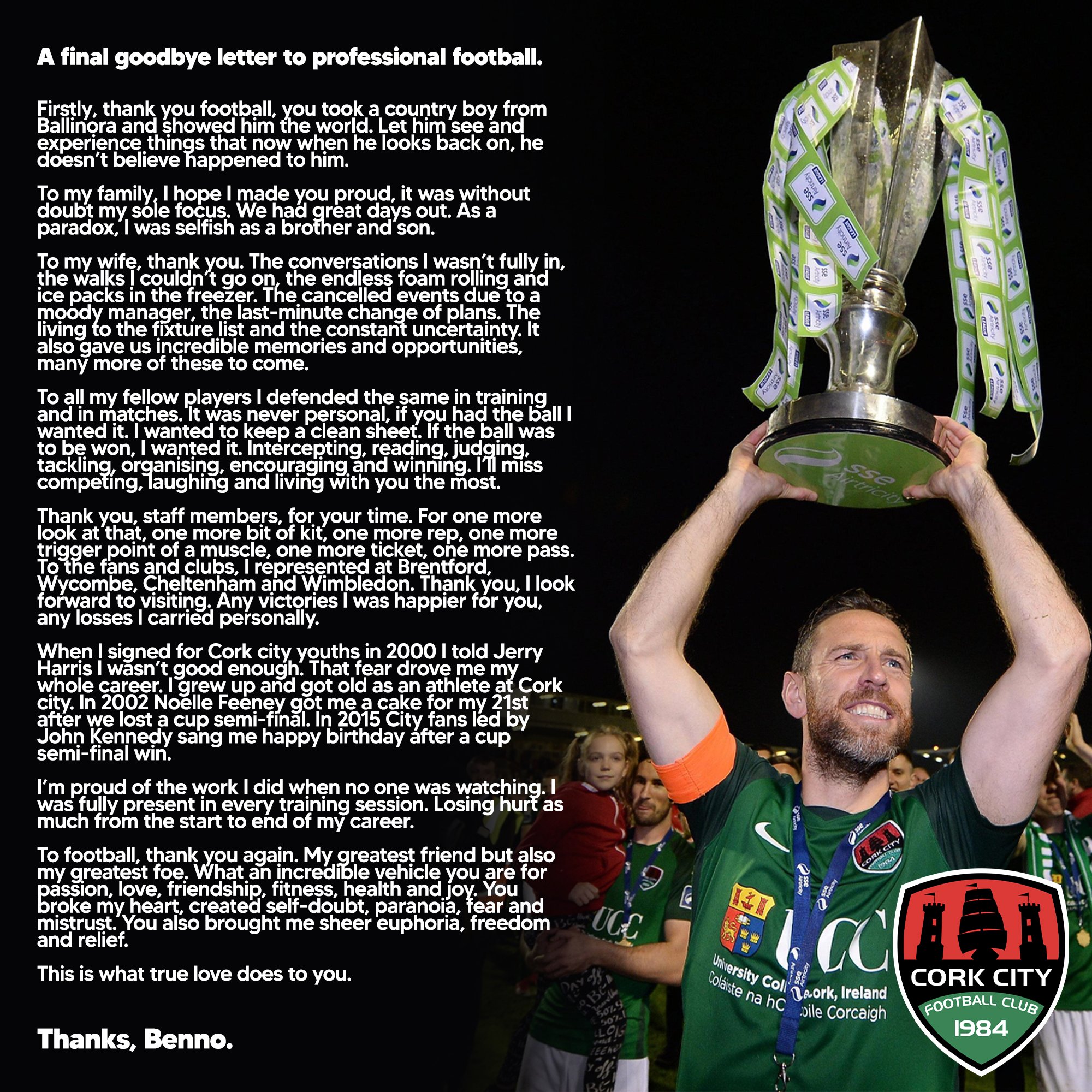 Bennett went on to pay tribute to former team-mates, club staff members, and coaches before closing his letter:
"Losing hurt as much from the start to [the] end of my career. To football, thank you again.
"My greatest friend but also my greatest foe. What an incredible vehicle you are for passion, love, friendship, fitness, health and joy.
"You broke my heart, created self-doubt, paranoia, fear and mistrust. You also brought me sheer euphoria, freedom and relief. This is what true love does to you.
Thanks, Benno."