Irish flanker Rhys Ruddock says Jordi Murphy has slotted into the squad set-up seamlessly after his arrival in Japan at the Rugby World Cup.
The Ulster star replaces the injured Jack Conan in the team and landed on Sunday night.
He will start immediately as Joe Schmidt's side take on Russia tomorrow morning, hoping to bounce back from the defeat to the hosts on Saturday morning.
Leinster flanker Ruddock is sharing a room with Murphy since his arrival, and he says he is raring to go.
"Really well, I'm rooming with him now and helping him get over the jetlag, a couple of bedtime stories and that.
"He's in great form and he's a guy everyone in the group knows well and is comfortable with. He's come in and slotted back in seamlessly, obviously [he] had a huge amount of preparation with the squad prior to coming out here.
"He's trained unbelievably well on the back of the travel... so credit to him and looking forward to playing with him tomorrow and getting out there next to him."
Johnny Sexton is set to captain the Irish side from the start for the first time in his career, and his provincial teammate Ruddock says there is no better man for the job.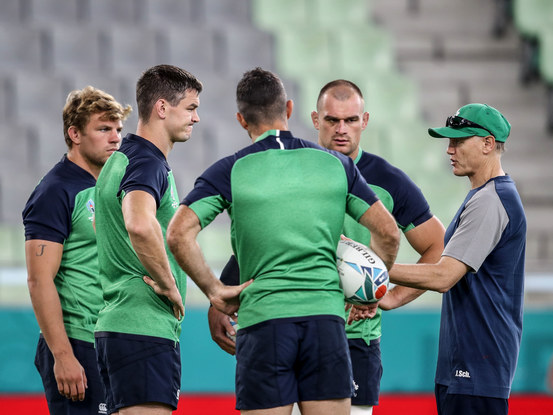 "I think he just demands such high standards for himself first and foremost. You know, no matter what week it is, what day, if he's not training he'll [still] always be looking to improve.
"Whether that's in the video room, off the field, or in the gym, and I think that just sets the tone for the people around him.
"He's been no different this week - it's obviously [been] a tough week for the group but he's definitely led the way he's driven himself and everyone else on."
28-year-old Ruddock played the final 24 minutes against Japan in the shock defeat in Shizuoka, and he says the team are ready to move on from that disappointment.
"I think it was really difficult for everyone coming off the bench and the guys who started. As we said at the time we gave credit to Japan, they were unbelievable.
"Look it was a tough game and we were unhappy with aspects of our game and I think we've reviewed that now and we're ready to move forward and I think tomorrow's the first step in that.
"There are lots of areas we want to improve on but Russia will be a different challenge - I think they'll pose a lot of the same threats in terms of the intensity, the physicality, and that kind of ambition they have to take us on. Hopefully, we'll learn the lessons from last week and prove we're in a better place."
Everyone's in the Team Of Us.
Vodafone. The Official Sponsor of the Irish Rugby Team.