It's now nearly two years since countries began slamming shut their borders in response to the growing threat of COVID-19.
International tourism cautiously restarted earlier this year, largely facilitated by vaccination certs and testing regimes.
However, while Irish people can now travel relatively freely to many countries, other borders remain effectively shut.
Below, we've gathered information on where we stand as we approach Christmas 2021. Where exactly can you travel to, and what sort of restrictions (if any) are in place for new arrivals?
There's one big caveat here: the Omicron variant. The travel rules for some countries, particularly to and from Africa, have changed significantly over the past week amid uncertainty over the variant.
The situation is changing regularly and often rapidly, so many of the details here could change at very short notice.
US and Canada
The United States is open to fully vaccinated passengers again, although they will need to show proof of a negative COVID test taken at least three days before travel. Travel is restricted for non-vaccinated passengers, with limited exemptions (mostly for humanitarian reasons).
Similar rules are in place for Canada, where fully vaccinated passengers will still need to take a pre-entry PCR test. Antigen tests are not accepted by Canadian authorities.
Latin America
Different rules apply right across individual countries in Latin America - unsurprisingly, given the many different jurisdictions in the region.
To enter Brazil, for example, a negative test result before departure is required - even for vaccinated passengers. Both antigen tests and PCR tests are valid.
Peru has mostly reopened its borders to fully vaccinated passengers, but those who aren't vaccinated will need to take a PCR test before departure.
Travel to Mexico is possible with or without vaccination, but all arrivals will need to fill out a 'health survey' on arrival.
Cuba, meanwhile, has reopened for tourism for those with proof of vaccination or a negative PCR test result.
Europe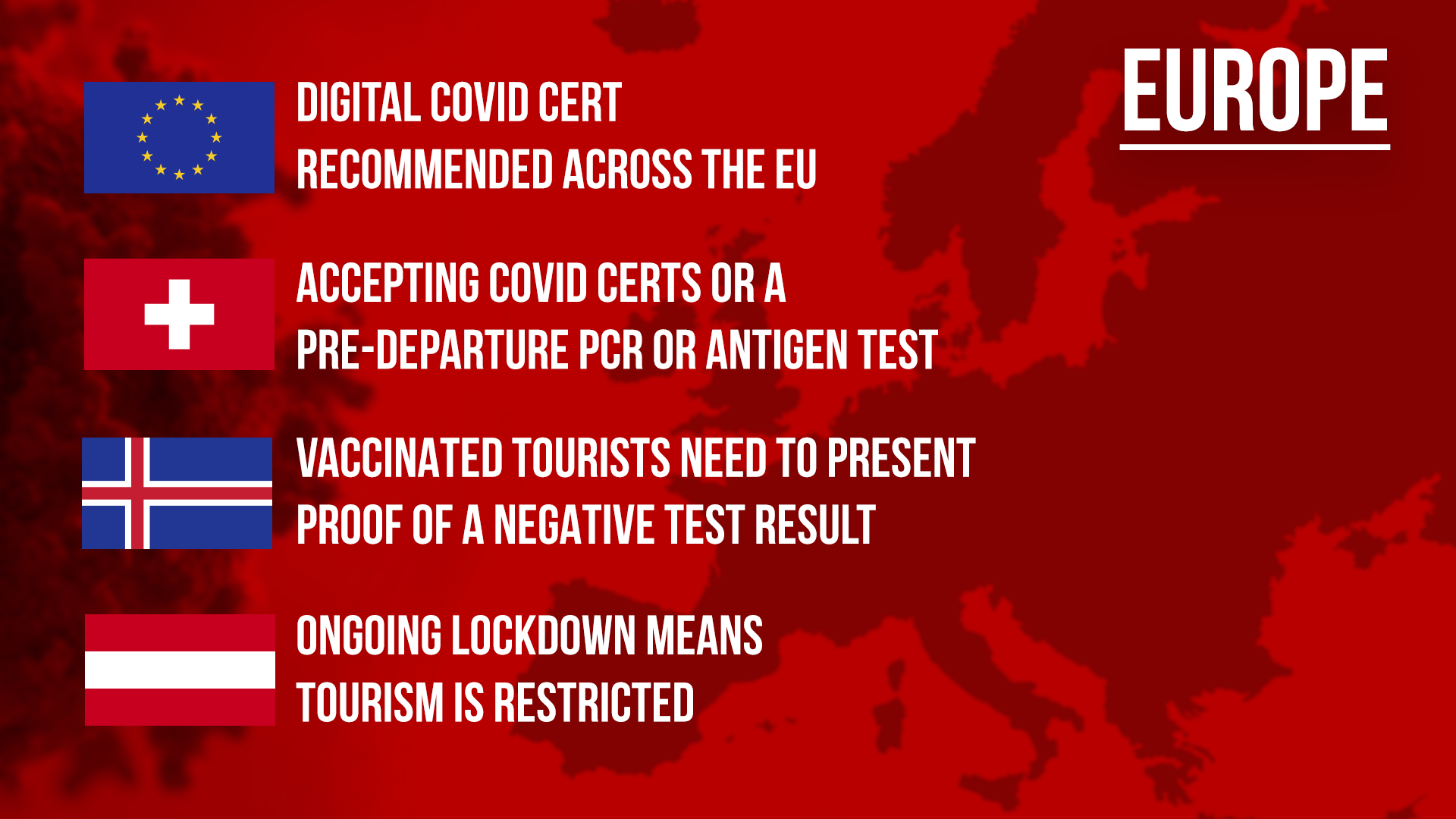 Having a Digital COVID Cert is recommended for travel across the EU - it will allow vaccinated or recently recovered people to travel freely to most countries, while unvaccinated people can get tested in order to facilitate travel.
The situation is changing amid the ongoing fourth wave of the virus and threat from the Omicron variant - and, from next week, anyone coming back to Ireland will need to have proof of a negative test result before arriving.
Austria's ongoing lockdown, meanwhile, means tourism is restricted until the measures are lifted. Borders are open, but most tourist facilities in the country - along with the likes of non-essential retail and restaurants - are closed.
There are of course also some non-EU countries to consider. Switzerland, for example, is accepting COVID certs or a pre-departure PCR or antigen test.
Most vaccinated tourists travelling to Iceland will need to present proof of a negative test result (either PCR or antigen, but not self-tests), taken at least 72 hours before departure.
Ireland is one of the few countries exempt from the UK's recently introduced pre-arrival testing regime, due to the Common Travel Area - but anyone travelling from the UK to Ireland will need to get tested before flying.
Asia
The rules across Asia differ quite dramatically from country-to-country.
Anyone travelling to the UAE - including Dubai - must have a negative test result from no more than 72 hours before departure.
Thailand has lifted the quarantine requirement for vaccinated tourists from Ireland and many other countries. However, they will need to have a PCR test result issued before travelling, and another one on arrival. People arriving in the country must book at least one night in a hotel while they wait for the results of the latter test.
Anyone arriving into South Korea needs to pay to quarantine at a hotel for 10 days, at a cost of around €1,250. They'll also need a negative PCR test before travelling. Vaccinated passengers had been able to apply for a quarantine exemption previously, but the rules have been tightened following the emergence of Omicron.
Most Irish citizens are still unable to travel to Japan unless they are residents and have a re-entry permit. The country's borders remain almost entirely closed to foreign tourists. The rules had been eased slightly for short-term business visitors and students, but the Omicron variant has led to stricter measures once again. Those who are allowed in must quarantine on arrival.
Non-residents are mostly banned from entering Hong Kong, and those who are allowed to enter face mandatory quarantine of two to three weeks.
China's borders are closed to foreign tourists.
Australia and New Zealand
Currently, travel remains restricted to Australia for most Irish people - with the exception of Australian residents and parents of Australian citizens. Quarantine rules have been eased for those who can travel and are vaccinated. They are gradually opening up the borders to tourists from other countries - including for fully vaccinated passengers from New Zealand, Japan, Singapore and South Korea. Irish tourists, however, will need to wait for a while longer.
New Zealand has announced plans to start reopening the border, but that won't happen until at least the end of April 2022. However, arrivals will still have to self-isolate for a week and show results of several negative test results (both before and after arrival).
Africa
Anyone hoping to travel to southern Africa is most likely to be impacted by the new Omicron travel restrictions. Flights to and from Europe have been heavily restricted, and the Irish Government is urging people to avoid non-essential travel to Botswana, Eswatini, Lesotho, Mozambique, Namibia, South Africa and Zimbabwe. Anyone arriving in Ireland from those countries faces two weeks of self-isolation.
It is mostly western countries imposing these measures in response to the Omicron variant's presence in those countries. South Africa's own borders remain open to tourists, once they have a negative test result.
Morocco had been open to travellers who are fully vaccinated. However, flights to and from the country have been temporarily suspended (until at least mid-December) amid Omicron variant concerns. The Department of Foreign Affairs here has been arranging a charter flight for those stranded in the country.
Egypt's borders remain open to tourists who have been vaccinated or have proof of a negative COVID-19 test result.
Main image: File photo. Picture by: ronstik / Alamy Stock Photo