People can get grants to cover up to 80% of the cost of some home energy upgrades.
Ministers signed off on the plans earlier this year, which included grants in the region of €25,000 towards a deep retrofit. But how do they work, and how much can you get?
The upgrades are part-funded with SEAI grants for homeowners and landlords, and fully-funded for those in receipt of certain welfare benefits.
You need to use a private company registered with the SEAI to access a grant - also known as One Stop Shops - who will manage the project for you.
The company will complete an initial energy assessment of your home and advise you on the upgrades you need to bring it up to a B2 Building Energy Rating  (BER) rating or higher.
They can also apply and accept the SEAI grants for your home, and assign a contractor to do the work.
However these companies deduct the grants from the cost of the works in advance, meaning the homeowner still has to pay for what is outstanding.
It has been suggested that the upper limit, a €50,000 retrofit with a grant of €23,500, would leave a €26,500 gap for the homeowner to finance.
Some of these operators can provide finance options, so there are different ways to pay.
Do I qualify?
To qualify for a grant you must be the owner of a property built and occupied before 2011 for insulation, heating control systems and renewable systems grants.
Your home has to have a BER of B3 or lower before the work begins, and reach a BER of at least B2 after the work has finished.
Applicants cannot have already used grants for the same energy upgrades.
What can I get under the scheme?
Under this scheme, you can get grants for:
Attic insulation
Rafter insulation
Wall insulation - including cavity wall, internal dry lining and external insulation
Floor insulation
Heating controls
Solar thermal solutions (solar hot water)
Solar PV panels
Heat pump systems and central heating system for heat pump
New windows
New external doors
Mechanical ventilation
Air tightness
Home energy assessment
Project management
How much are the grants for?
The table below shows grant amounts available for each energy upgrade.
The amount you get for each upgrade can depend on the type of home you have.
For example, a grant to insulate a detached house would be more than a grant to insulate an apartment.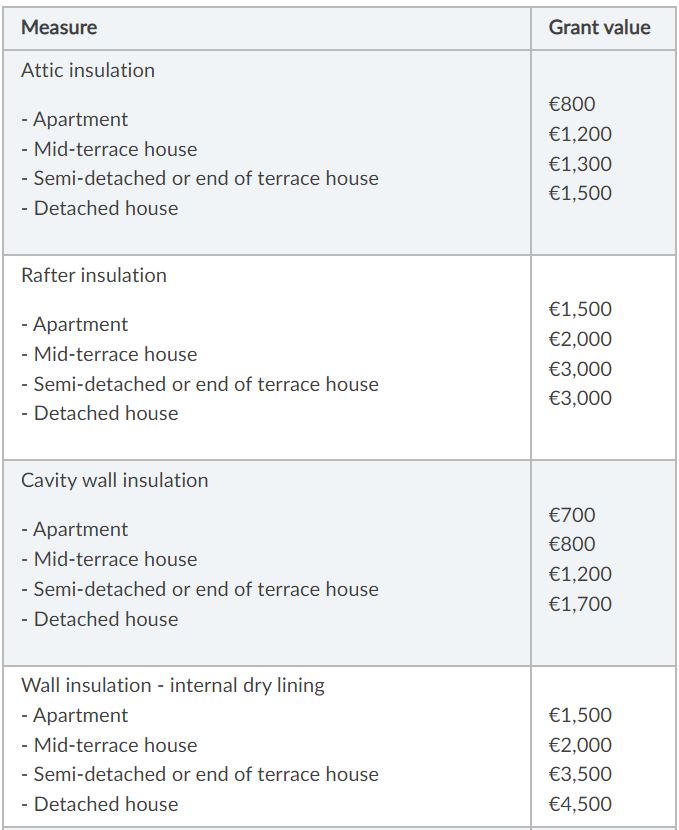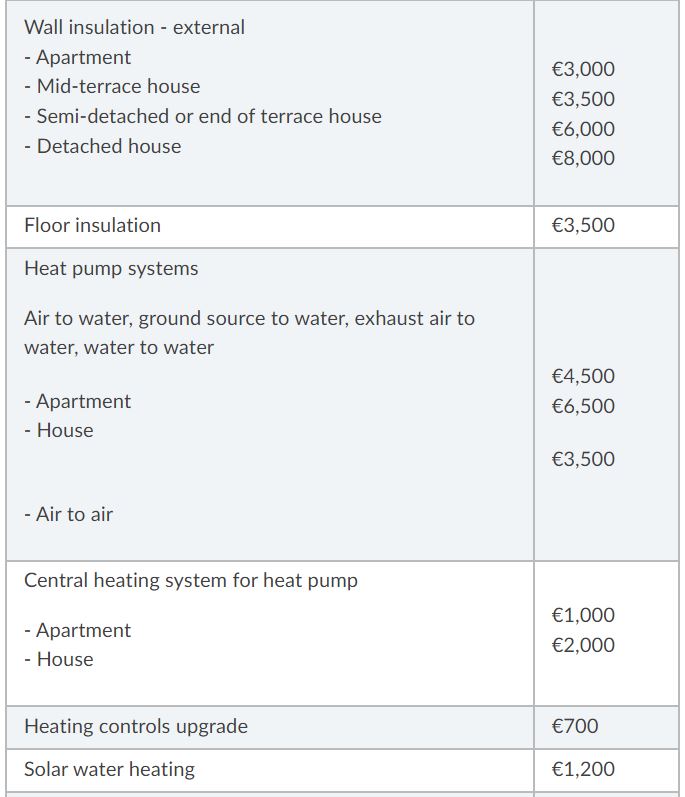 The One-Stop-Shop will assess your home and recommend the work needed to reach a B2 rating.
There is also bonus of €2,000 if you install a heat pump.
In case studies, produced by the Government, it is estimated that an upgrade costing €49,500 - with a grant of €24,600 - would produce energy savings of €1,200 per year.
How to apply
People should contact an SEAI registered One-Stop-Shop to apply for these grants.
Main image: A man measures loft insulation to cut down heat loss in a house. Picture by: Global Warming Images / Alamy Stock Photo