The major overhaul of Dublin's bus system will begin on Sunday, as part of the nationwide BusConnects project.
The first services will cover the Howth and Malahide areas, while also covering the likes of Baldoyle, Donaghmede and Portmarnock.
Existing routes are set to be renamed and rerouted, with the overall BusConnects rollout expected to take years to complete.
The entire system will involve the creation of around 230 kilometres of priority lanes.
It will see the network switch to a 'spine' based, branching system, with routes on the so-called 'H spine' to be the first to start this weekend.
There'll be a total of eight spines, with various orbital, local and city-bound routes to cover areas and routes outside the spines.
On Newstalk Breakfast, Transport Minister Eamon Ryan explained how it will work.
He explained: "There will be eight spines - high-frequency [routes], [with buses every] four to eight minutes. [It's] a really high-quality service that will see about a 26% increase in the overall bus service.
"We're starting in Howth, on the H spine. The 29 service from Baldoyle will be the H1. The H2 will be replacing the 32 service from Malahide… and then the Howth services will become the H3, the old 31s, 31as, 31bs…"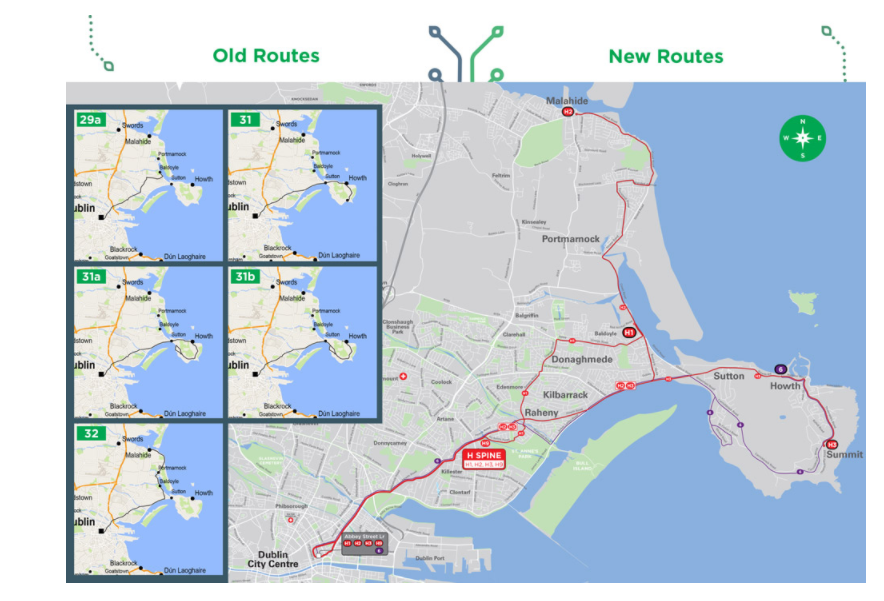 Routes from Lucan to Ringsend and Sandymount - the 'C spine' - will be the next services to be launched this autumn.
Minister Ryan stressed the overall rollout is going to take some years, and 'critically' the bus routes in other cities around the country will also be overhauled.
In Dublin, it will take five to ten years to completely move to the new system, which will also involve new buses.
The plan also proposes the introduction of '90 minute tickets', which will cover all bus, Luas and short-hop DART journeys started within a 90-minute period.
Minister Ryan said the National Transport Authority (NTA) has also listened to concerns around removing trees and revised their plans.
He acknowledged the process means space currently given to cars will end up being 'ceded' to public transport, cycling and walking.
However, he said he thinks that's appropriate - adding that the plans will ultimately "enhance the public realm" alongside the public transport system.
Main image: File photo of Dublin Bus buses in Dublin city centre. Photo:Leah Farrell/RollingNews.ie