From midnight tomorrow, Donegal will become the second county to be put under level three of coronavirus restrictions.
For three weeks, there will be significant restrictions on the likes of social gatherings, while people are being asked not to enter or leave the county for anything other than essential purposes.
Like Dublin, some additional restrictions will be in place compared to the Government's level three guidelines - in particular no indoor dining being allowed in restaurants.
However, unlike Dublin, wet pubs in Donegal - which were allowed open earlier this week - can stay open for takeaway, delivery and outdoor seating.
Here's the full list of level three measures: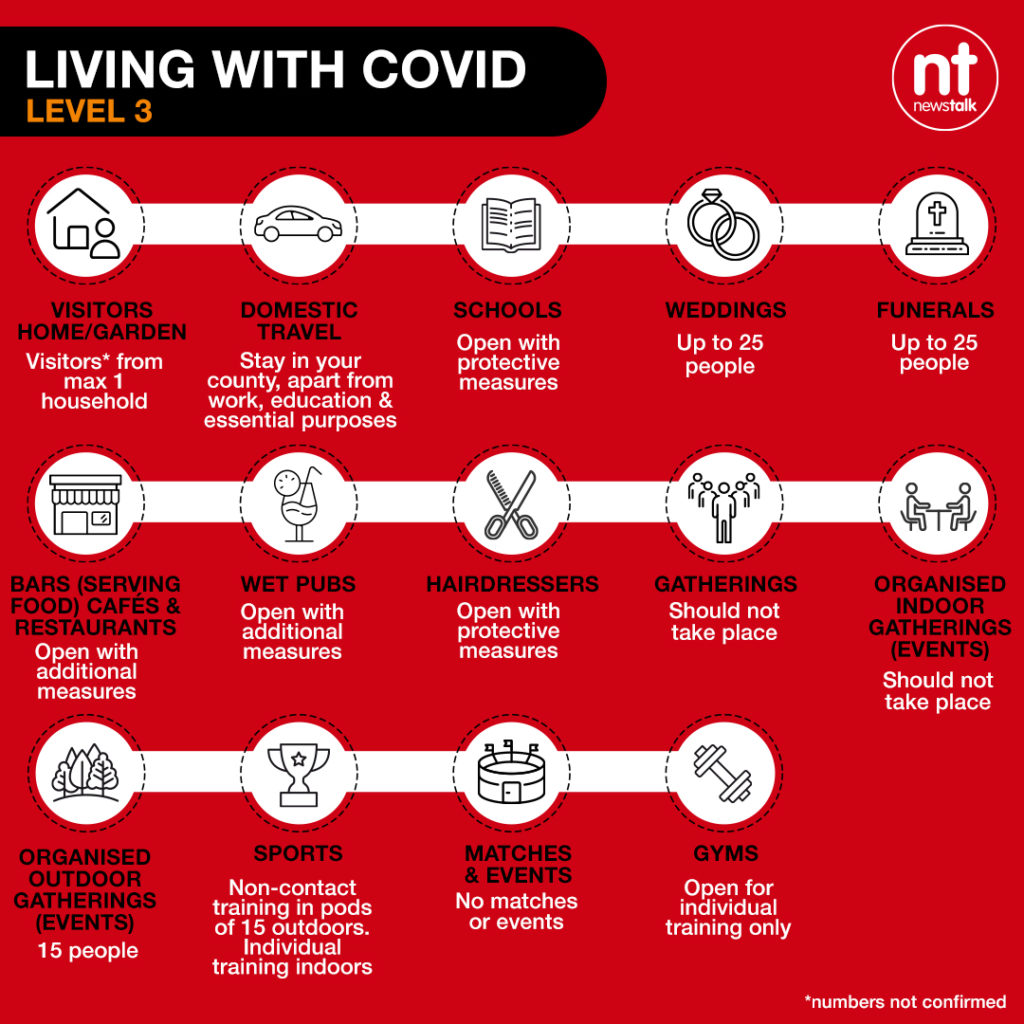 Household visits will be restricted to a maximum of six visitors from one other household only. People are being advised against all other social or family gatherings.
People are being asked to stay in Donegal "apart from work, education and other essential purposes". Anyone from outside Donegal is being asked not to travel into either the city or county for non-essential reasons.
Restaurants, cafés and pubs are being restricted to takeaway, delivery and outdoor seating for a maximum of 15 people. Indoor dining will not be allowed - a tougher restriction than is contained in the 'Living with COVID' guidelines announced earlier this week.
Only 25 will be able to attend weddings and funerals, down from 50 under the level two guidance. However, the change will not come into effect until Monday - meaning 50 people will be allowed attend weddings and funerals this weekend.
Other religious services can only take place online, with Confirmations and First Communions to be postponed.
Organised indoor events will not be allowed, while museums, galleries, cinemas and theatres will have to close.
Organised outdoor gatherings such as art events can continue, but will be limited to just 15 people.
Outdoor sports training can continue in pods of up to 15 for non-contact sports, but no matches can take place. However, professional / elite sport and senior club games can continue.
Gyms and swimming pools can remain open for individual training only. No exercise or dance classes are allowed.
People are being asked to work at home unless "absolutely necessary to attend in person".
Schools, childcare services and creches will remain open, but higher and adult education facilities are being asked to "limit congregation as far as possible" and hold online classes wherever possible.
Visits to nursing and care homes are being suspended, except for in 'critical and compassionate' circumstances.
Hotels can remain open, but services are limited to residents.
Retail and services - including hairdressers and barbers - can remain open with protective measures in place, and face coverings must be worn.
Public transport will be operating at 50% capacity, for essential workers only. People are being asked to walk or cycle where possible.
Main image: File photo of Dunfanaghy Village, County Donegal (Credit Image: © Peter Mccabe/Design Pics via ZUMA Wire)