The Government has revealed where mass COVID-19 vaccinations centres will be located across the country.
37 centres will be set up, with at least one in every county.
Five sites have been identified in Cork, along with four in Dublin.
Counties Kerry, Tipperary, Westmeath and Wicklow will have two vaccination centres each.
Once vaccination is rolled out to the general population, members of the public will be asked to register online to receive their jab in one of the centres.
The Government says the sites will be "of different sizes and operating hours will be based on vaccine supply and catchment area need".
Health Minister Stephen Donnelly said: "These centres will be ready well in advance of vaccine supply when they will be used as part of our programme.
"People can expect to see these vaccination centres ready and waiting in their county.
"In the coming months supply will increase substantially and we will see these centres operating to full capacity and administering vaccines to the general population, following the Government priority list."
You can see the full list below: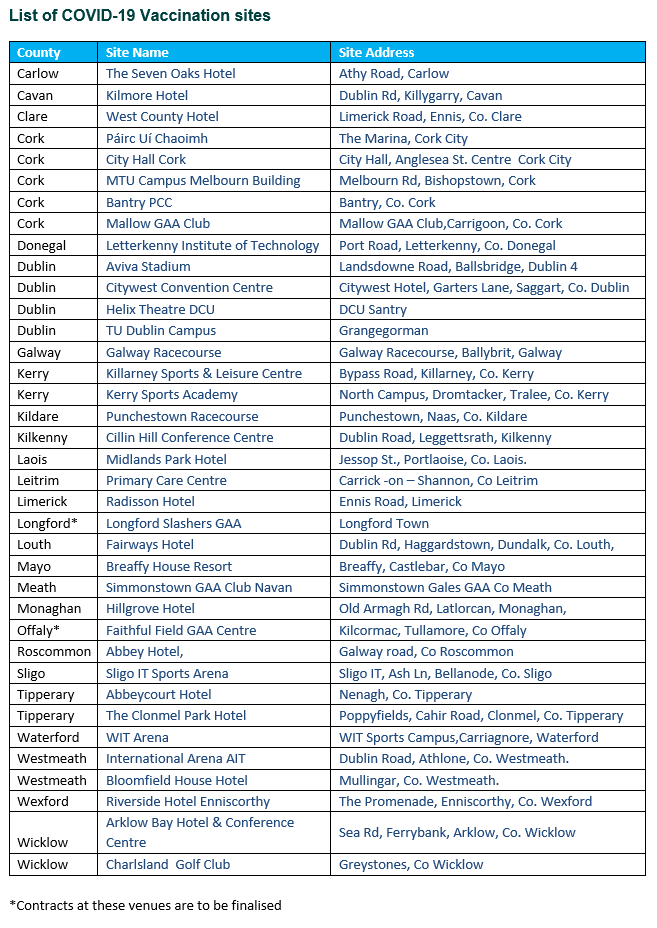 Vaccination of over-85s is getting underway from today.
While some older people will be vaccinated at large sites, the majority of the vaccine programme for over-70s is currently GP-led.
However, the dedicated vaccination centres will be opened as the programme rolls out to the wider community.
Earlier, HSE CEO Paul Reid told Newstalk Breakfast: "We have plans ready now for 40 vaccination centres, all across the country that will work on 12-hour shift basis.
"They're being finalised with the minister shortly, but that's going to be a really exciting process."
He said around 375 GPs will be vaccinating people over the coming week.
Main image: File photo.

Picture by:

 

Andrew Medichini/AP/Press Association Images