Grow with Aldi Producer Lisa Clarke introduces Pat Kenny to her delicious frozen yoghurt range
Lisa Clarke is the Business Development Manager for Ice Cream Treats, an ice cream and frozen yoghurt company based out of Killeshandra, Co Cavan. One of their innovative products, Yomega3 Greek Style Frozen Yoghurt, is part of this year's Grow with Aldi supplier development programme. If successful, the business will see their range stocked in 142 Aldi stores nationwide.
Ice Cream Treats have always prided themselves in providing premium quality produce and Lisa explains to Pat Kenny that this is achieved utilising as many locally sourced ingredients as possible. In an attempt to distinguish themselves from their competitors, the company began developing a frozen yoghurt containing Omega 3 and Vitamin D. The process took over two years to perfect with the company working with an Omega 3 expert from Belfast. Lisa tells Pat that they had to overcome 'the reflux of Omega 3 tablets or oils' that people would associate with it to create flavours without any fishy aftertaste. The range includes a vanilla, mango and raspberry option. Lisa highlights the pioneering properties saying 'What is different and unique about Yomega3 is that in each 100ml portion you get your recommended daily allowance of Omega 3 and Vitamin D'.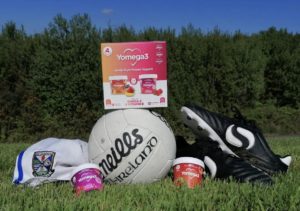 The frozen yoghurt gets the thumbs up from Pat! He's also quick to recognise the importance of Vitamin D for maintaining a healthy immune system during the Covid 19 pandemic. Lisa agrees pointing out that our deficiency stems from a lack of Irish sunshine! The award-winning Yomega3 will be stocked in all Aldi stores for a two-week trial period from Sunday May 31st and they hope to be a permanent fixture from September
Listen to Lisa Clarke on the Pat Kenny Show here: