Mobile health services are necessary to support homeless people who will struggle to attend regular medical appointments, according to those who provide the service in Dublin.
The SafetyNet Mobile Health Unit is a mobile doctors clinic that travels around Dublin city seeking out people who cannot reach the GP.
The aim of the unit - which operates three nights a week - is to bring medical care to some of the most marginalised people in the country.
For The Pat Kenny Show, reporter Josh Crosbie spent a night on the road with the staff of the mobile unit.
Fiona Reilly from SafetyNet explained that they were starting their night in the Capel Street area.
She explained: "There were a few homeless people [on Capel Street] that the Dublin outreach team had for us to see.
"Our doctor Alanna and our nurse Clare saw about three people - one was very unwell. They had to do quite a bit of persuading to get him to agree to go to hospital… that went successfully enough, thankfully, and he's gone in now to the hospital.
"Normally, it wouldn't be an ambulance call - but we always do a lot of follow-up with them the next day.
"They don't just disappear into the night after they get a treatment."
She said the service "really goes to where the most vulnerable people are", as these are people who don't prioritise their health as "they're busy surviving".
The unit's van is just like a traditional clinic, with the necessary equipment and medical gear - but being on the move does makes everything difficult.
Fiona explained: "We hook up to the Internet in the van, and we can see if a patient has seen another doctor during the day in other homeless service, which they often do. We can see their medical records, and we can see what they are on.
"[Tonight] it wouldn't connect - there was a problem with the internet and VPN. That's more difficult when you're mobile, but we equip ourselves as best as possible to be mobile."
'We can bring the doctor to them'
Michael Mullen is a project worker with the Dublin Simon Community outreach team, which coordinates with SafetyNet.
He said: "We have a lot of clients who would have varying levels of health needs, and might be reluctant to go into hospitals. With their lifestyle, it might be very hard to get them to go to a centre where there is a doctor in the building.
"With the mobile health unit, we can bring the doctor to them: it removes one of the barriers to them accessing medical treatment."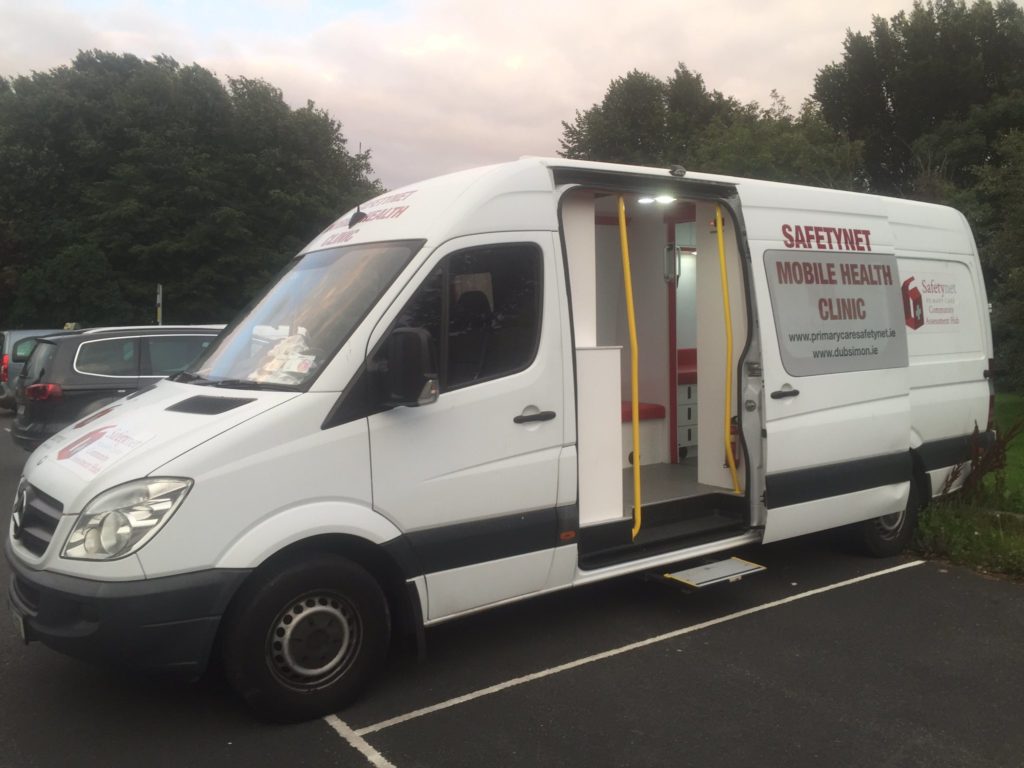 One man who was by Camden Street explained he had been on the homeless list for 11 years now.
He told Josh: "I have a 13-year-old son, so I've been on the list since I was two.
"[SafetyNet] help me out big time with sleeping bags and food… probably a tent if I needed a tent or that. They've helped me with doctors… they've been better than my own GP in a way.
"It took me three weeks to get an appointment to see a doctor, and then I ended up having a breakdown over the whole incident… I had stomach ulcers I didn't even know I had until two of them burst.
"[The van is] able to come to me… there's no problem there.
"It would be easier if I had somewhere to stay, where they know where I'd be. I need to get some support workers and key workers, because I don't have anything like that."
Building trust and rapport
Alanna is a doctor who has been working with SafetyNet on-and-off for six years.
She said: "You never know what evening you're going to have.
"Some evenings you feel you didn't make any great change to anyone… other nights you really feel like you made a massive difference.
"You're trying to arrange to meet them where they are - if you're living in a tent, you can't charge your phone… it's not quite ad-hoc, but relatively often [you] miss people or you can't find them."
She said ordinary medical appointment systems just don't work for the people she and her team work with.
She explained: "If you're going to do anything for them at all we need to go and meet them where they are, at a time that suits them.
"Sometimes by making that first visit, you've earned a bit of trust and built a bit of rapport… if they've had a positive experience, they're quite receptive to saying 'I'll see you here next week'.
"Your ability to focus on medical problems and get them seen to in a timely fashion is just not there if your primary concern is your safety, shelter and where your next meal is coming from."
Additional reporting by Stephen McNeice
Main image: Members of the SafetyNet and Simon Community teams with the mobile health unit. Image: Josh Crosbie