A nine-year-old girl who is battling cancer is on a mission to collect GAA jerseys from every county.
Róisín Price was diagnosed with Acute Lymphoblastic Leukemia (ALL) in February 2015.
She immediately started chemotherapy, which went on for two and a half years.
Roisín finally completed her treatment in July 2017 - but just one year later it was discovered that she relapsed.
She immediately started treatment again, which consisted of a combination of chemotherapy and cranial radiotherapy for central nervous system disease.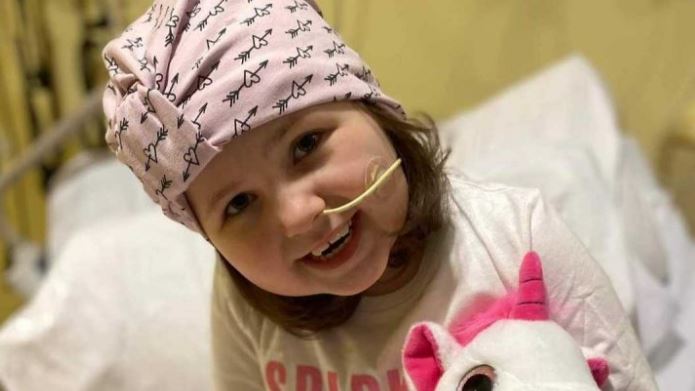 Her treatment plan was set for the next two and a half years and was due to complete in January 2021.
However the family recently found out that the cancer is back.
As a huge GAA fan, Róisín and her family have made the appeal to grow her jersey collection to cheer her up during her therapy.
More 70 jerseys are on their way to Róisín follow the appeal, including signed club and county shirts.
A GoFundMe page, 'Roisin's Relentless Fight', has been set up by her family to help raise money for her treatment.
Newstalk's technology correspondent Jess Kelly is friends with the family.
She told The Hard Shoulder: "She wanted to build her own jersey wall - any parent who's even been in Crumlin [Children's Hospital] will know the jersey wall, it's filled with every county.
"And Róisín decided she wanted to build one of her own.
"My brother Dylan and his girlfriend Jean bought her the first jersey - it's a Kerry jersey - we posted a picture of it online.
"I put out a plea last Friday if anyone would like to help.
This is Róisín. She's 9 years old and has battled cancer for the past 6 years. She found out this week that the cancer is back.

Alongside her fight against cancer, she decided to set herself the mission of collecting GAA jerseys from every county. pic.twitter.com/HnXxBdapJM

— Jess Kelly 👩🏻‍💻 (@jesskellynt) November 13, 2020
"I kind of thought we might get five or six jerseys - but we now have 70 jerseys that have arrived in.
"Not just from every county, but we have clubs, we have clubs in Wales, in Boston in San Francisco, in Australia, in South Africa - coming from all over the world".
"The amazing artist Annie West sent us a picture today of one of her gorgeous caricature drawings, all with Tipperary jerseys, and she drew Roisín into the picture - which was just lovely.
"We've had some small Irish businesses sending up gifts."
"We've heard so much over the last week of people bitching and moaning about all the stuff that's going on and how everyone is worse off than everyone else.
"And this week has just given me that warm, glowly feeling that people are nice - and there is good out there".
"So I just want to say thanks to people who have supported, and we're going to give Roisín all of the jerseys so she can have her jersey wall before she goes off to Manchester for the next round of her treatment".