The father of the inspiration behind the Virtual Hug says the impact his son has made is not lost on him.
It is almost a year since Adam King captivated the country - and the world - on the Late, Late Toy Show.
Since then, Adam's Virtual Hug sign has made it on to stamps, mugs, bridges and even into outer space.
Adam - who has brittle bones - says he wants to work for CAPCOM at NASA, and this led him to a meeting with Canadian astronaut Chris Hadfield.
Now his father, David, has written a picture book around his son's experiences - aptly titled A Hug for You.
The book, inspired by true events, tells the story of one little boy with a big idea that came straight from the heart.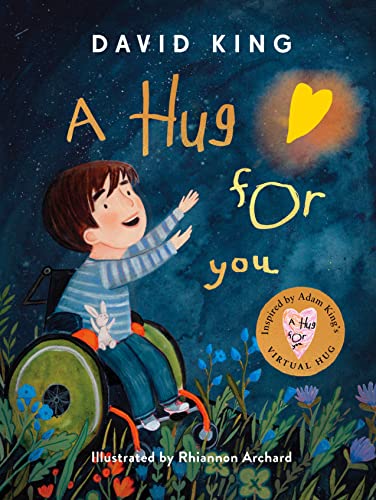 David told The Hard Shoulder his son is well aware of the impact he's having.
"He has taken it in his stride, I have to say.
"Obviously your primary concern for your children all the time is that they're OK and they're safe. We would always be thinking along those lines and have done for Adam.
"But I have to say he's always impressed us and took it in his stride.
"And anybody who saw him on the Late, Late Show last week, he was really enjoying it and loving asking the questions of Ryan and giving him a run for his money."
David says Adam is very proud that he's been able to help those who helped him.
"He's really enjoyed the journey, and it's not lost on him - the good that he's done, it really isn't lost on him.
"He would be out with us....he would meet people, and they would say to him - of all ages and of all walks of life - how they received a virtual hug or they sent a virtual hug.
"And how it meant so much to them and how important it is for them, and how he's done a really really good thing.
"He's very, very proud of it and I think he's really proud that he was able to do so much good for his hospitals".
'Challenging times'
On the book, David says: "It's the story of Adam's experiences and the experiences of the wider public over the last year or so - and I guess some of the challenging times that we found ourselves in.
"And those times when we longed to be able to connect in the ways we were used to connecting in our communities, at sporting events, in the performing arts and learning in school.
"Even the idea of just being able to see people's faces - not hidden behind masks - and how, during those times, the Irish people at home, abroad, people all around the world took this little gesture that my boy created that came straight from the heart and used it as their source of light and hope and connection."
Adam also has a Christmas special cartoon on the way, but David says they are taking the time to enjoy it all.
"We're just going to take time at the moment to really really enjoy these things over the next couple of weeks, and have a really enjoyable Christmas.
"When things like this come along in life, sometimes you're so caught up... it passes you by.
"I've really tried to say to the family and to Adam, and all of us that are involved in the book and the animation, just to really actually enjoy it".
Main image: Adam King is seen on the set of 'The Late, Late Toy Show'. Picture by: Andres Poveda Photography