The Cabinet is expected to approve moving Dublin to level three of COVID-19 restrictions later on Friday.
Some additional restrictions are expected on top of the level three guidelines.
The Cabinet Sub-Committee on COVID will meet this morning to consider the advice from the National Public Health Emergency Team (NPHET) to escalate restrictions in the capital.
This is expected to include an extra measure such as a ban on indoor dining for restaurants.
Under level three, pubs that do not serve food are allowed to open - but they will remain shut in Dublin.
People will not be allowed to leave the county unless it is for work, education or other essential reasons.
It is expected to be similar restrictions on anyone entering Dublin.
The amount of people attending weddings and funerals will be reduced to 25, while religious services like mass will move online.
Visitors from one other household only will be allowed in your home or garden.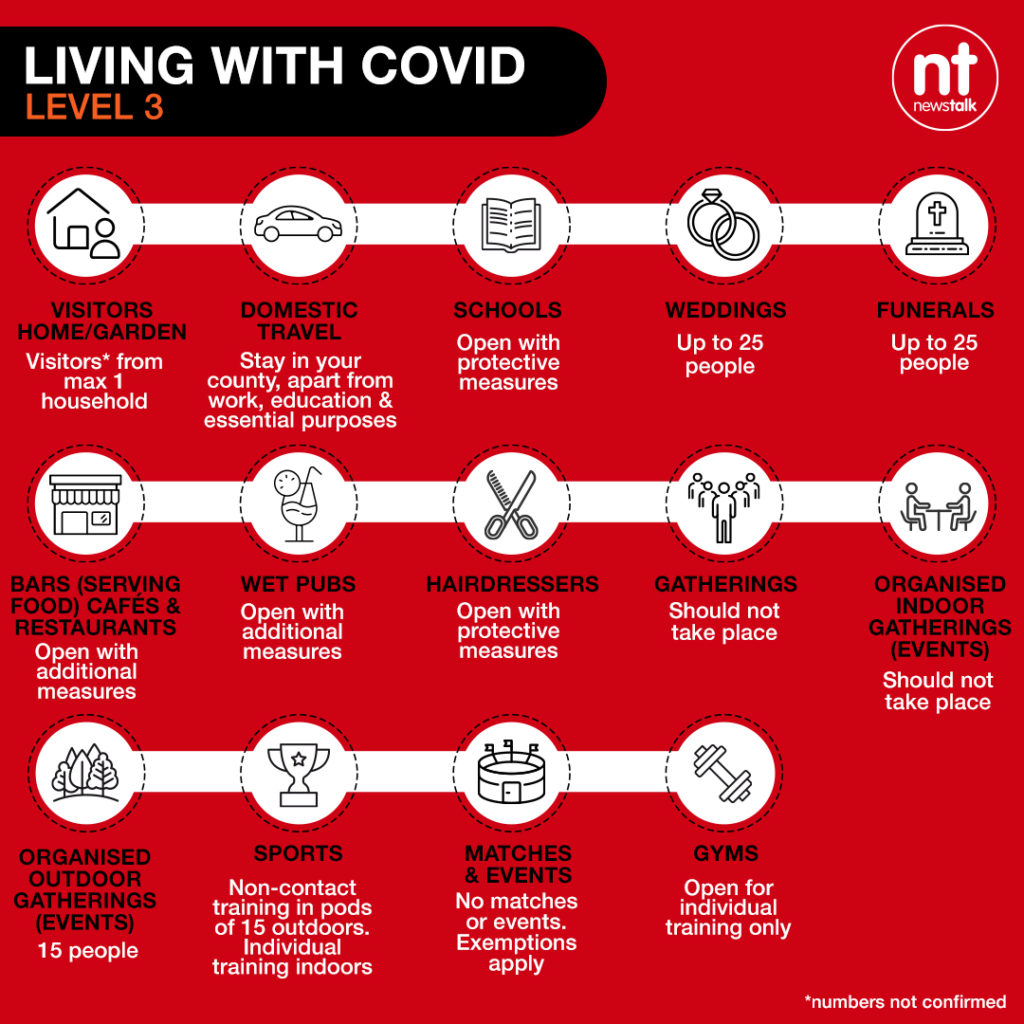 No organised indoor gatherings can take place, and all matches will be cancelled with the exception of professional sport and senior GAA intercounty or club games.
Non-contact training can continue in pods of 15 people or less.
There will be further restrictions on hotels, bars and restaurants and people will be advised to work from home.
The official announcement will not come until this evening, with the regulations expected to take effect from midnight.
Newstalk's political correspondent Sean Defoe told Breakfast Briefing the Government wants to act quickly on this.
"I think they are adding more layers to it in order to avoid the kind of a knee-jerk reaction that this Government had to a whole host of issues, not just health issues it must be said, in the first while of them being brought together - and instead to give a little more time to consider the wider impact of things.
"Ideally, from a Government point of view, what they would like to do in future is to get a NPHET recommendation on a Thursday and not make a decision until a Cabinet meeting on the following Tuesday: a full five days to mull it all over.
"But in this instance, the virus is moving so fast in Dublin and that they didn't implement the extra restrictions that NPHET wanted last Thursday until this Tuesday, they don't have much of a choice but to act a little bit quicker.
"And they think that if the weekend was allowed to go unchecked in Dublin and things were allowed to continue - the likes of say more communion and confirmation parties that had been set up for a lot of people - that we could see even worse spread of the virus next week.
"So that's why they're acting quite quickly today to actually put these in place and shut Dublin down, to an extent".
Reporting by: Sean Defoe
Main image: A woman wears a face mask in a coffee shop in Dublin as NPHET indicated that Dublin is at the forefront of the increase in the number of COVID-19 cases nationally. Picture by: Brian Lawless/PA Wire/PA Images