A further 8,126 people have contracted COVID-19 in Ireland, the Department of Health has confirmed. 
4,731 were diagnosed after taking PCR tests, while 3,395 registered positive antigen test results with the HSE. 
845 Irish hospital patients have contracted coronavirus, of whom 79 are being treated in ICU. 
The five day moving average has dropped to 10,519 - down from 11, 231 yesterday.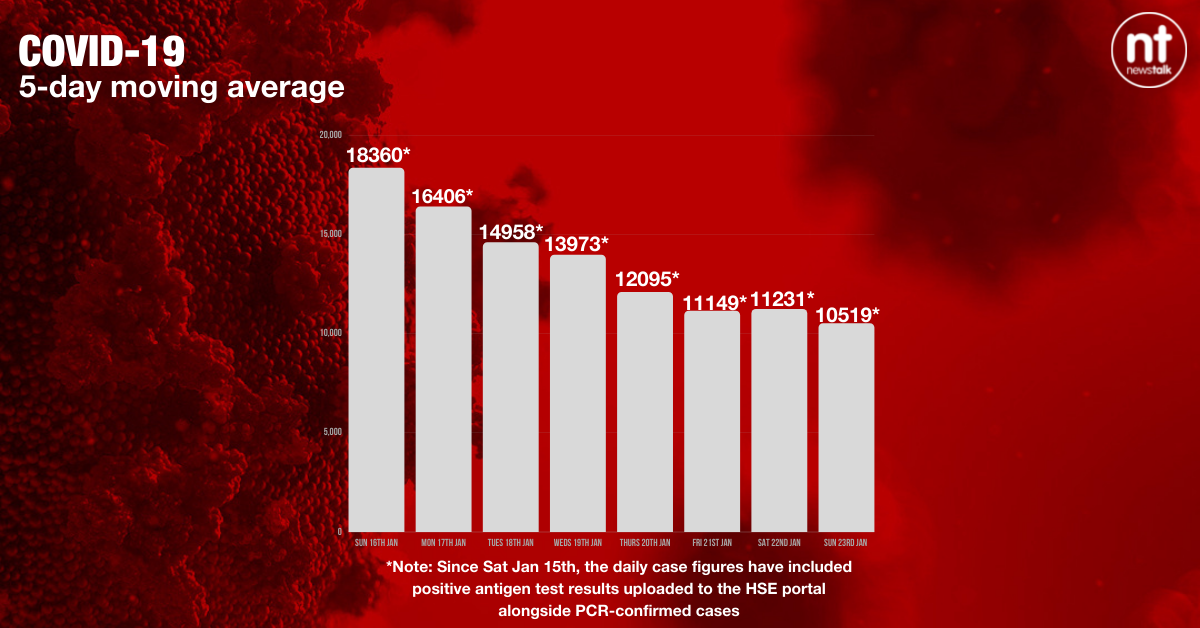 However, despite a clear trend of downward cases, Health Minister Stephen Donnelly warned those who remained unvaccinated that they are risking their health:  
"They are putting themselves at risk… 60% of our critical care patients are unvaccinated," Minister Donnelly told On The Record with Gavan Reilly. 
"I think it is on them, if they choose not to get vaccinated they are knowingly putting themselves at significantly higher risk. But ultimately that is a choice for them." 
Minister Donnelly also defended the decision to drop the need to show a COVID pass before entering hospitality venues: 
"These [COVID restrictions] are very, very serious things to do," he said. 
"And they should only be done when there is a strong public health rationale. So yes, there are secondary benefits. 
"There's no question there was a secondary benefit to the digital COVID cert of more people and more younger people went off [to get vaccinated]. 
"It gave them that extra nudge to go and get vaccinated which ultimately is one of the things that has protected the country. 
"That was never the primary purpose of the COVID cert."
Main image: A COVID testing centre in Finglas, Dublin. Picture by: Sam Boal / RollingNews.ie