Ireland has recorded 4,791 new COVID cases today, the Department of Health has confirmed. 
536 hospital patients have tested positive for the virus, of whom 118 are being treated in ICU. 
The five-day moving average is 4,347 - down slightly from yesterday's figure of 4,515.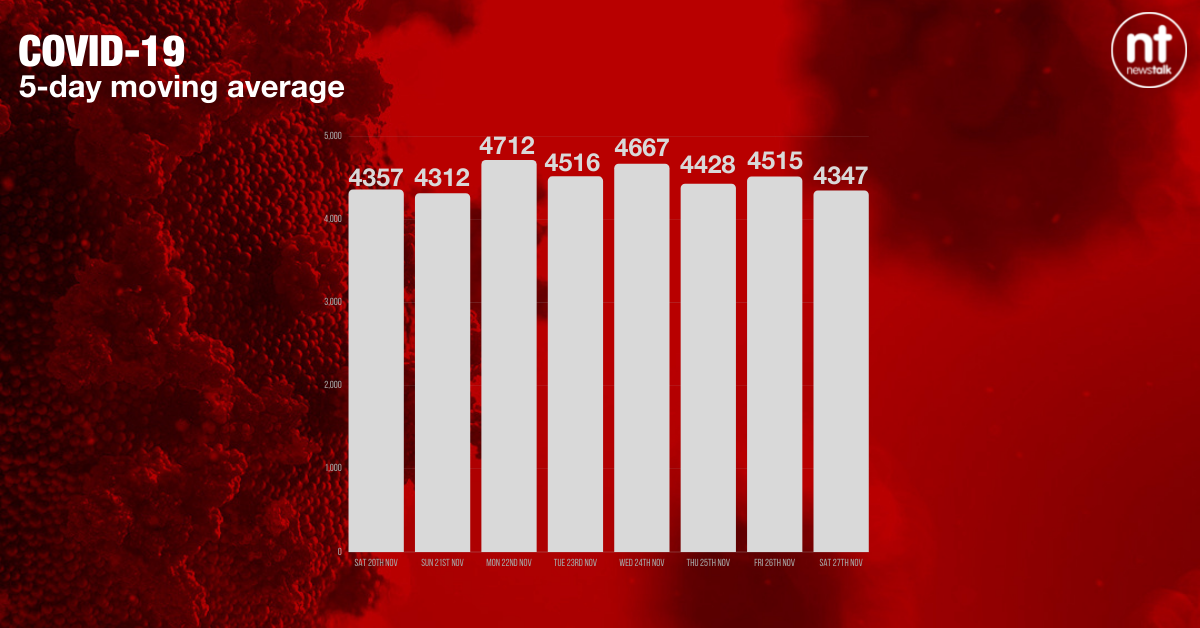 Omicron
The news comes after Environment Minister Eamonn Ryan admitted that he felt "frightened" when he was given the news of the Omicron COVID variant. 
Speaking on The Anton Savage Show, Minister Ryan said: 
"I'll be honest, I was frightened yesterday. It was a blow because I was kind of thinking, 'If we get these boosters out, we'll be in much better shape' - which we will. 
"And the prospect that you could have something that could work around those vaccines, let's be honest, it was the most disheartening news since the start of this I guess."
However, Minister Ryan also said that a variation of the vaccine could soon be developed to counter Omicron: 
"Pfizer has come out and… [said] they will be able to develop an alternative vaccine that adapts to variants. 
"That's one of the advantages of the technology, it's incredibly flexible and innovative technology." 
COVID in schools
Meanwhile, a school principal has said the Government's plans to protect children from the virus do not go far enough: 
"What is in this suit of measures is simply sanitiser for hands and then a ridiculous high cleaning bill to clean touch points throughout the day," Vicky Barron, Principal at CBS Primary School in Wexford, told Newstalk. 
"But we now know that the Delta variant is airborne. So in our classrooms at the moment we have no [air] filters. Except maybe I'm hearing some schools who can afford to buy them - my school can't. 
"We cannot afford to put a filter in every classroom."
Ms Barron said that people who work in schools were not being taken seriously enough by the Government when they raise concerns: 
"There are people who are working on the ground who have a reality," she said. 
"And our reality is that COVID is spreading in our schools. We can see it. 
"We are belittled and undermined and told that we are not public health experts. We accept that. We're not. 
"But when our reality is completely different to what the data sets are showing, someone somewhere has to step up and say, 'Right, what is actually going on in schools?'"
Earlier this week NPHET advised the Government to make masks compulsory for children over the age of nine, as well as in shops and in public transport. 
It also recommended that children cancel social activities like birthday parties, nativity plays and communions for the next few weeks.
Main image: A couple walk past a mural of a healthcare worker in PPE. Picture by: Sam Boal / RollingNews.ie