There have been no new deaths and 252 further cases of the coronavirus here.
Of the cases notified on Monday:
124 are men/128 are women
65% are aged under 45
The median age is 34
Some 88 cases are in Dublin, 26 in Cork, 21 in Kilkenny, 16 in Louth and 16 in Mayo.
The remaining 85 are spread across 20 other counties.
As of 2.00pm on Monday, 289 patients are hospitalised - of which 33 are in ICU.
There have been 11 additional hospitalisations in the last 24 hours.
There has been a total of 2,022 COVID-19 related deaths and 70,711 confirmed cases here.
Donegal continues to have the highest 14-day incidence rate per 100,000 population, at 227.4.
This is against a national average of 108.7.
Louth also has a rate of over 200 (211.8) - while Limerick (195.0), Limerick (158.0), Roscommon (158.0) and Waterford (155.8) make up the top six.
Wexford has the lowest rate, standing at just 36.1.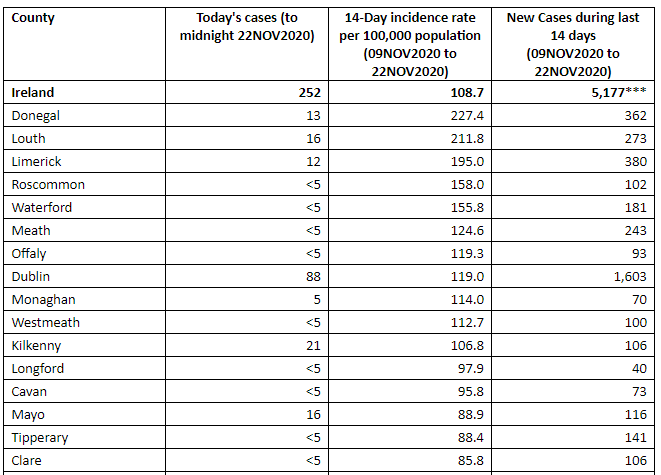 Chief Medical Officer Dr Tony Holohan also presented slides, comparing Ireland to other European Union states - as well as the UK.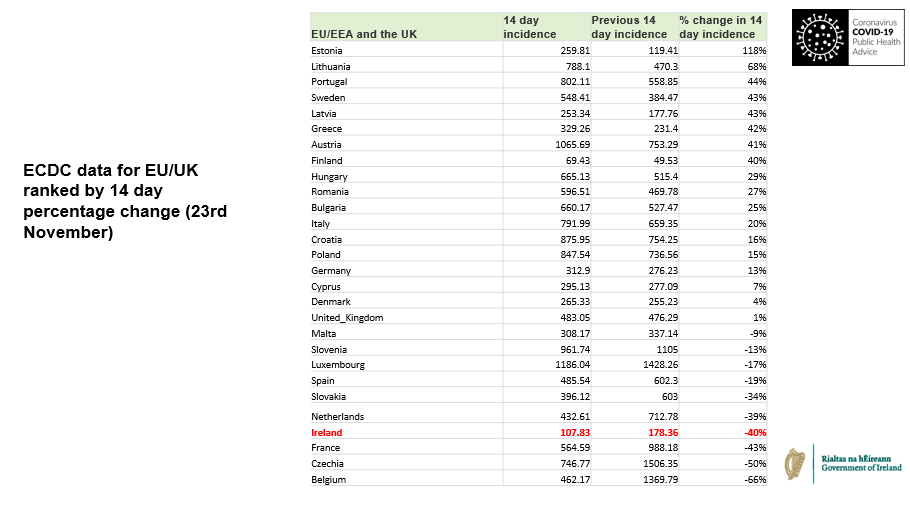 However, he appealed to people not to become complacent.
"When we find ourselves in a situation where things are getting better, or may be where things are - we can all see - comparatively better in this country than they are in other countries in Europe and that can lead to a degree of, I don't like using words like 'complacency' in any judgmental sense, but a degree of 'we start to let the guard drop' a small little bit.
"And things that we did religiously - if I can put it that way - we don't do quite as often.
"And I think we have to just be careful then about the extent to which we're all then starting to blame one another".
There have also been 77,819 tests completed in the last seven days, with a positive rate of 3%.
While a survey to gauge public opinion on the pandemic has found people are now 'less worried' about the coronavirus than at the beginning of November.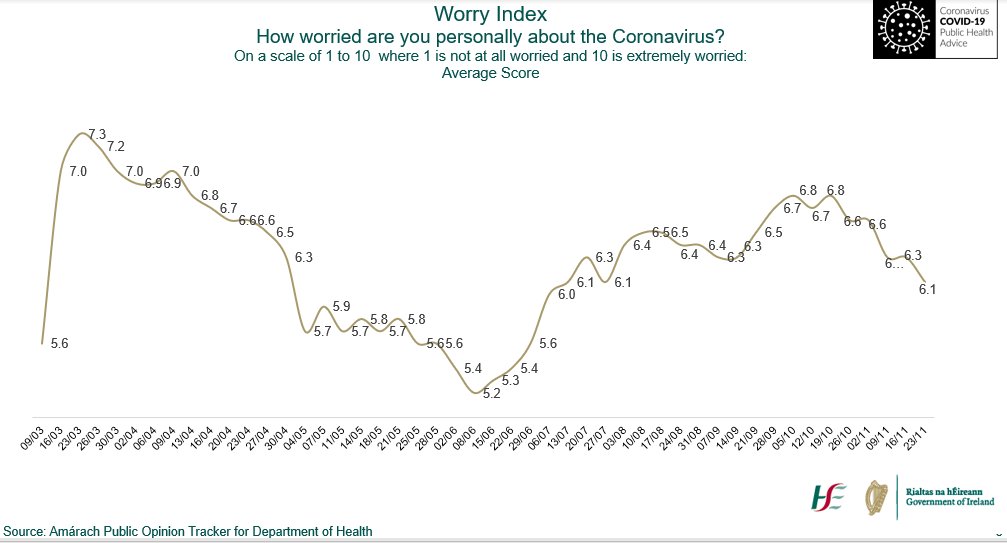 It comes as the Government is to meet to consider options to come out of level five restrictions next week.
The National Public Health Emergency Team (NPHET) is meeting a day earlier than planned this week, on Wednesday, as discussions on exiting level five continue.
Government party leaders are also meeting on Monday to discuss exiting level five, while the Cabinet will meet on Tuesday morning as usual.
Cabinet will then meet on either Thursday or Friday to discuss NPHET's recommendations - however it is believed the preference is to make an announcement before Friday.