There has been another record number of coronavirus cases reported in Ireland.
There have been 1,283 new confirmed cases of the virus and three additional deaths as of midnight Saturday.
There has been a total of 1,852 deaths and 49,962 confirmed cases of COVID-19 here.
Of the cases notified on Sunday:
651 are women / 628 are men
68% are under 45 years of age
The median age is 31 years old
Some 408 of the cases are in Dublin, 156 in Cork, 88 in Kildare, 80 in Meath and 55 in Limerick.
The remaining 496 cases are spread across 21 counties.
As of 2.00pm on Sunday, 277 COVID-19 patients have been hospitalised - of which 33 are in ICU.
There have been 17 additional hospitalisations in the past 24 hours.
Data shows Cavan remains the county with the highest 14-day incidence rate per 100,000 population.
This is followed by Meath, Monaghan, Donegal and Clare.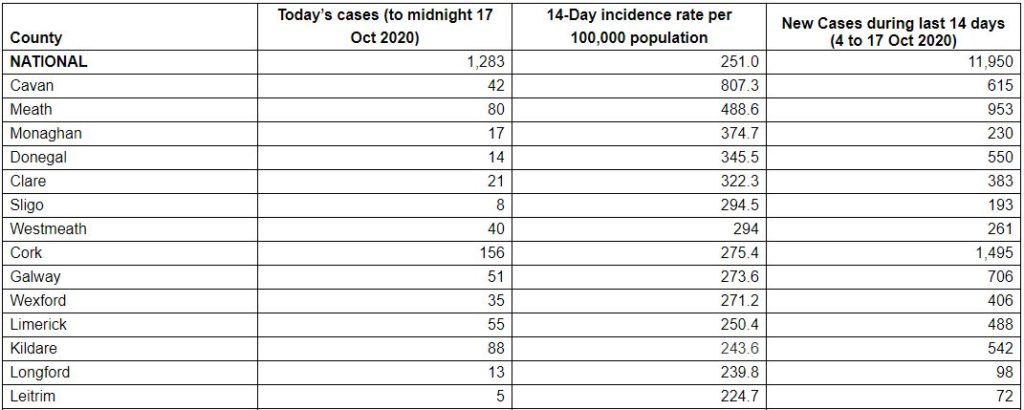 It comes as the Cabinet is expected to make a decision on Monday in relation to a second lockdown.
Lengthy meetings on Saturday broke up without any agreement on whether or not to implement NPHET's advice of level five restrictions for six weeks.
The Chief Medical Officer (CMO) Dr Tony Holohan briefed the three leaders of the coalition parties, along with senior ministers, on the proposal.
A statement following the meeting said the CMO gave an analysis of the virus in each region of the country, while HSE Chief Executive Paul Reid gave an assessment of current hospital response capacity and an update on the test and trace system.
Presentations were also given on the economic, employment and society-wide implications of moving to severe restrictions.
Other significant issues such as mental health and domestic violence were also discussed.
The Government said fundamental to the discussions "was the overarching aim of protecting lives and livelihoods."
Lockdown concerns
Speaking to Newstalk Breakfast earlier, World Health Organisation (WHO) spokesperson Dr Margaret Harris said a lockdown should not be used as a country's only strategy.
"Our position is not that you can't do lockdowns, it's simply that don't use a massive lockdown as your only strategy," she said.
"Ultimately, you use a lockdown - it's essentially putting the entire society into quarantine.
"You do that at the point where your services are getting overwhelmed, where you simply can't do the other things you need to do - the contact tracing, the testing, the caring for people, you've run out of beds - so at that point you put a freeze on things.
"They do work, the problem is of course the economic and social consequences can be very high.
"But this time around - it sounds like bad news, but it's good news - people are better prepared and do understand what's going on far better."
Main image: Dr Tony Holohan, Chief Medical Officer, and Dr Ronan Glynn, Assistant CMO, at the delivery of a Covid-19 update in the Department of Health. Picture by: Sam Boal / RollingNews.ie