There have been three additional deaths related to COVID-19 and 335 more confirmed cases of the virus.
There has been a total of 2,036 COVID-19 related deaths and 71,494 confirmed cases in Ireland.
Of the cases notified on Thursday:
162 are men / 171 are women
64% are under 45 years of age
The median age is 35 years old
Some 119 cases are in Dublin, 29 in Kilkenny, 23 in Limerick, 20 in Donegal, 19 in Tipperary and 19 in Cork.
The remaining 106 are spread across 19 other counties.
As of 2.00pm 246 COVID-19 patients are hospitalised - of which 35 are in ICU.
There have been 15 additional hospitalisations in the past 24 hours.
Meanwhile Donegal remains the county with the highest 14-day incidence rate per 100,000 population - at 218.
Louth (201.7), Limerick (188.3), Waterford (149.8) and Kilkenny (131) make up the top five.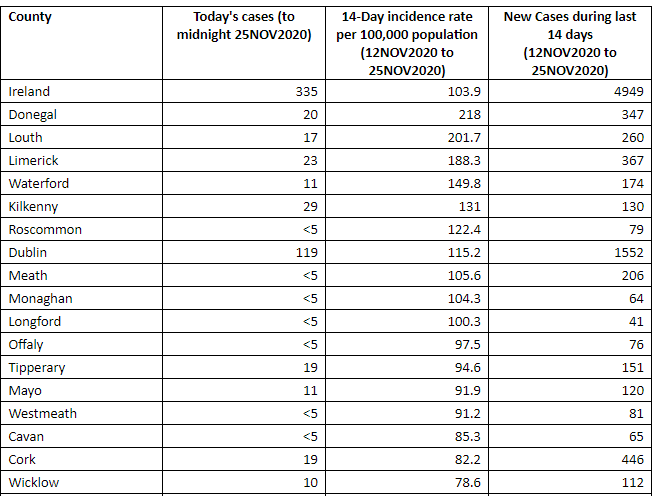 Wexford has the lowest rate of any county - at 36.7 - while the national average stands at 103.9.
A new local electoral area report has also revealed which areas have the highest 14-day incidence rates.
Milford in Co Donegal has a rate per 100,000 population of 355.8.
Neighbouring Letterkenny is also high with a rate of 305.5.
Outside of Donegal, Dundalk South in Co Louth stands at a rate of 299.1 - while Waterford City South is 284.7.