There have been a further 2,002 confirmed cases of COVID-19 in Ireland, the Health Protection Surveillance Centre (HPSC) says.
As of 8.00am Friday, 354 patients are hospitalised with the virus - of which 73 are in ICU.
The five-day moving average of cases has jumped to 1,242.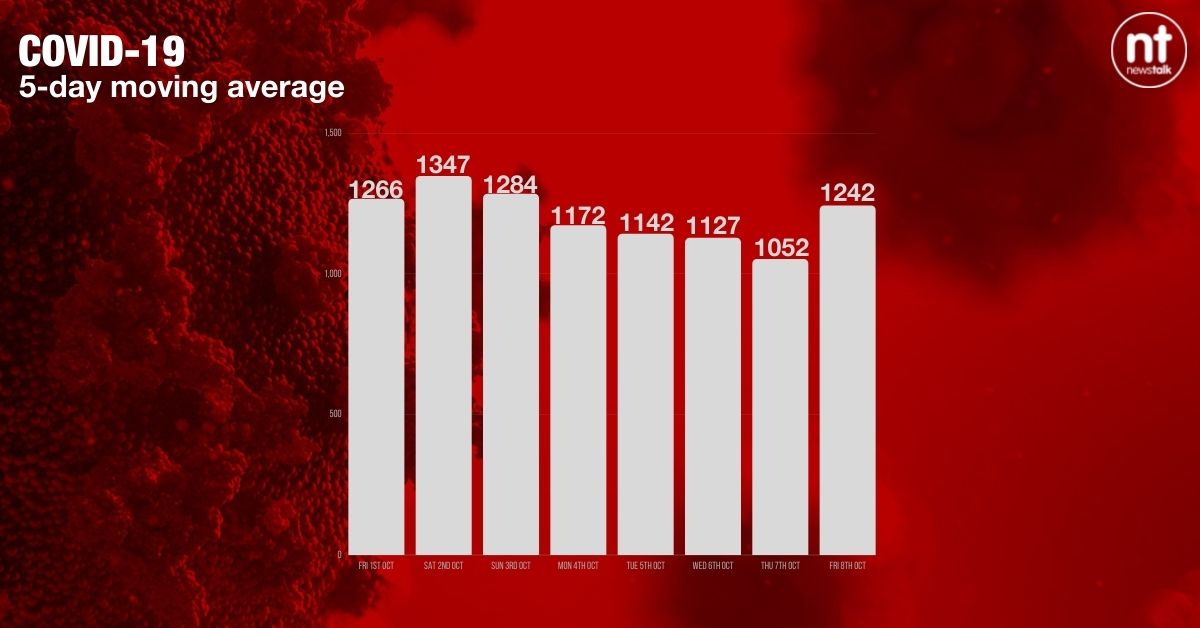 Deputy Chief Medical Officer, Dr Ronan Glynn, says case numbers are falling back.
"Today's case number reflects an increased number of positive tests on specimens collected over the last three days.
"However, the total number of COVID-19 cases reported in the last seven days (8,845 cases) is fewer than the previous seven days (9,115 cases) - with the seven day moving average of daily cases at 1,264 today, compared to 1,302 a week ago.
"We will continue to monitor this situation closely to see if the trend in new infections over recent days is sustained."
Dr Glynn adds: "If you are experiencing a high temperature, dry cough, or flu like symptoms please stay at home - do not go to work or socialise.
"To keep yourself and your family safe please continue to regularly wash your hands, wear a mask when appropriate, open windows and ventilate indoor spaces, and choose outdoors where possible for meeting others."
Thankfully we're all getting on with our lives more. But just a need for caution. #COVID19 hospitalisations up 17% this week to 354,69 ICU. 67% of patients in ICU are not vaccinated (3% partially). The vaccines are protecting & helping us all to move on, with awareness. @HSELive

— Paul Reid (@paulreiddublin) October 8, 2021
It comes as the head of the HSE says 67% of COVID-19 patients in ICU are not vaccinated.
Paul Reid says vaccines are protecting and helping us to move on, but there is a need for caution.
He cited the increase in COVID-19 hospitalisations in the past week of 17%.
Meanwhile 1,276 new coronavirus cases are being reported in Northern Ireland.
There have also been two additional related deaths there.
Some 360 patients are being treated for the disease in hospital in the North, with 35 in ICU.
Main image: Deputy Chief Medical Officer Dr Ronan Glynn at a briefing in the Department of Health, Dublin in May 2021. Picture by: PA Images/Alamy Stock Photo/Brian Lawless