Brendan Gleeson has said Irish people need to start addressing the pain and savagery of the civil war as we approach the 100-year anniversary of Michael Collins' assassination.
He made the comments in an in-depth interview with Pat Kenny to mark 30th year of the Bewley's Coffee Morning for Hospice.
The 67-year-old actor said he has been a huge supporter of hospice services ever since he saw the love and care offered to both his parents who died within three years of each in the noughties.
He told Pat that the very first time he was in Bewley's Grafton Street was in 1991 when he was filming a scene from 'The Treaty', in which he played Michael Collins.
He noted that most Irish people were never taught much about The Treaty in school, and it was 'a real eye-opener' to see how seriously his fellow actors took the subject.
"There was that sense of gravitas," he said. "There was a real feeling this was important."
"Revisiting all that stuff now, I'm not surprised we weren't taught it in school. It was still extraordinarily raw, and it was still extraordinarily inflammatory.
"Even now I find myself being infuriated on both sides."
Now that we are in the midst of the 100-year Centenary of the Civil War, Gleeson said it is important for Irish people to start properly talking about what happened.
"We have to start talking about these things," he said. "It's uncomfortable because we don't like to see ourselves in a savage light but everybody has savagery in them and we have to address it because it's never that far away from the surface as we all know."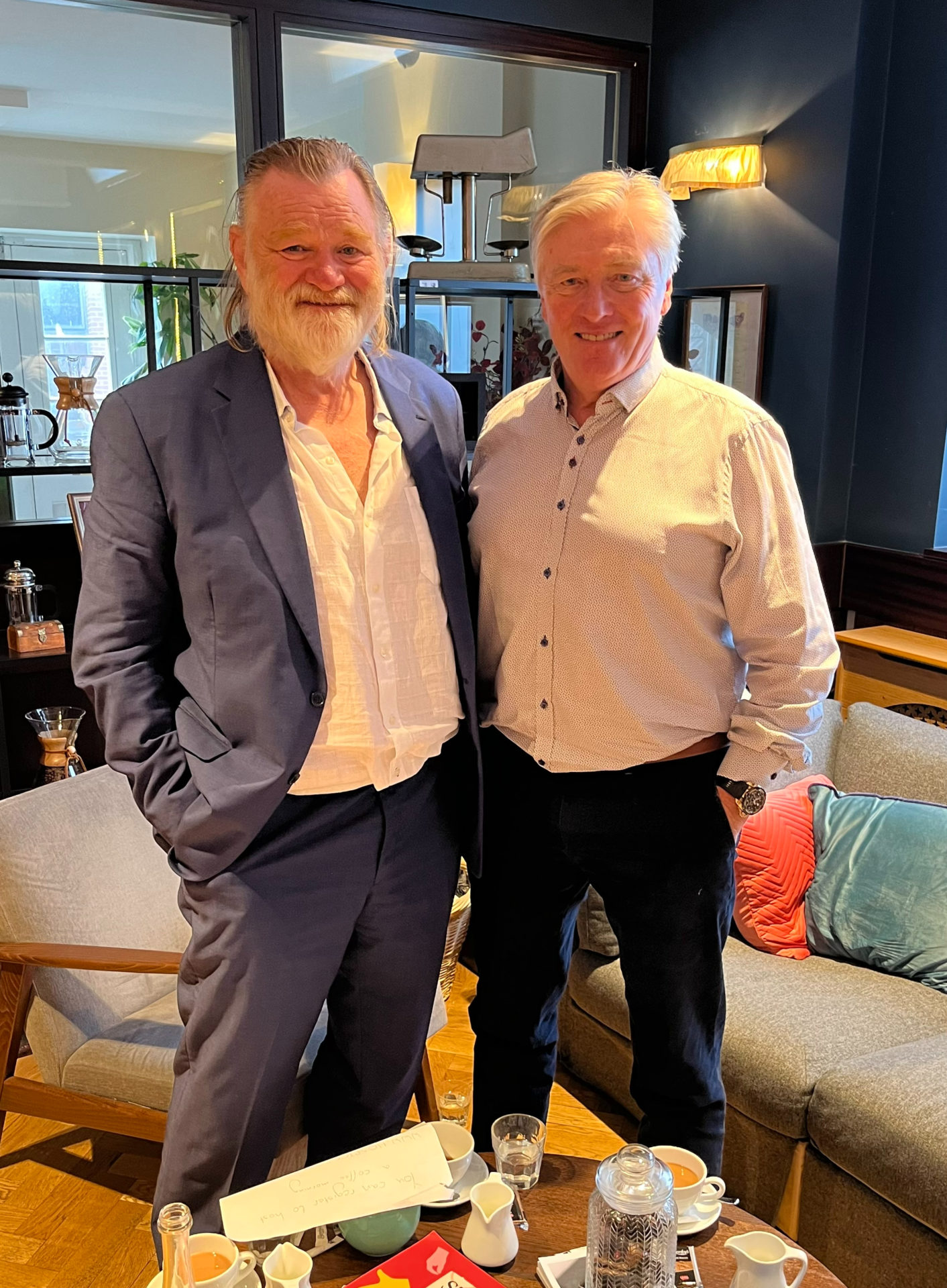 Brendan Gleeson in Bewley's with Pat Kenny. Image: Ciara Treacy/NewstalkGleeson said he has been a big supporter of the Bewley's Coffee Morning ever since his parent's passed away in hospice services.
"The experience was eye-opening for me in the sense that the life affirmation that was within the hospice service was life-changing really," he said.
"It made the passing part of a natural course of events. Obviously, grief will always come but it was so well-managed and there was such a sense of life and the quality of life within the place that was encouraged and reinforced that I wanted to be a part of it from then on."
He said the health service could learn a lot from the way hospice services are managed – with the patient prioritised above all else.
"The first time I went into a hospice was, Mrs Griffin across the road went in and she went into Harold's Cross," he said.
"I went in with my Mam to see her and the first thing she said - she was a howl - she said, I should've been in here years ago.
"It was indicative of just how beautifully things are organised around the person and it is about bringing the person back.
"It sounds grandiose; I'm not trying to be grandiose; I'm being really serious. The idea that we would re-prioritise the person, I think, would go huge lengths towards solving a lot of our issues.2
You can listen back here: