This weekend on Documentary On Newstalk, the story of one of Ireland's most unique and most difficult running challenges. 
In 'The Wicklow Round', radio producer Ciarán Ryan meets with and follows a number of runners who have taken on The Wicklow Round, a grueling 110km+ self-navigated challenge to 26 summits in the Wicklow Mountains. The documentary charts the origins of the 'round' back to the early part of this century, meeting some of the pioneers involved in setting the route and those who took it on first.
We meet record breakers and non-finishers as they relieve their experiences navigating and moving through the Wicklow terrain. 2021 was in a sense the 'Year of the Round', with the highest number of runners ever taking on the challenge. This documentary gives snapshots and behind the scenes insights into some of the attempts that took place this year, following runners through the highs and lows as they try to reach their goal in under 24 hours. We hear from crews and family members, as they support their endeavours, highlighting the community aspect of what may seem like a very individual pursuit.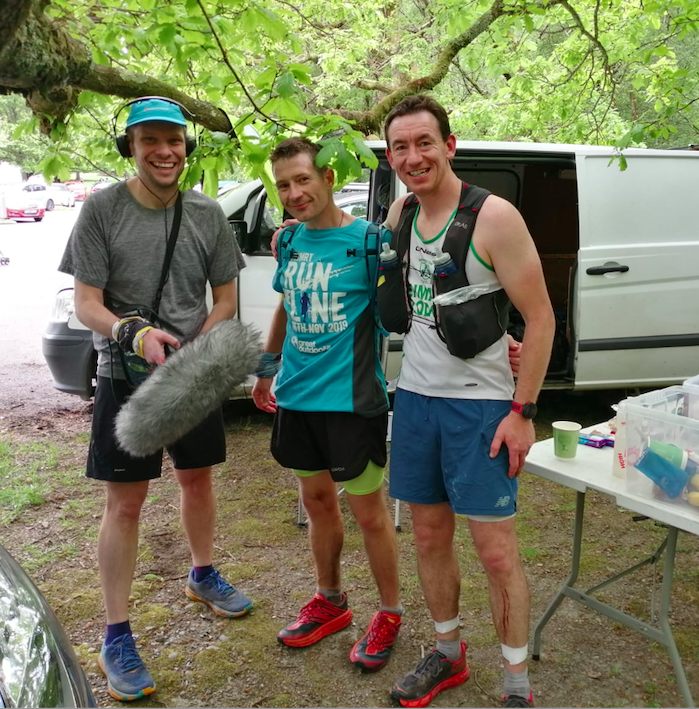 Producer Ciarán Ryan at Glendalough with JP Byrne (Centre) and Michael Dowling (Right)
The Wicklow Round gives a taste of what awaits in the Irish mountain running community, with plenty of mud, sweat and tears (to borrow from the title of contributor Moire O'Sullivan's book on the round) along the way.
'The Wicklow Round' will be broadcast on Newstalk  Sunday October 24th at 7am and again on Saturday October 30th and will be available to stream and as a podcast.
The documentary was funded by the Broadcasting Authority of Ireland, through the television licence fee.