To celebrate International Women's Day 2021, Documentary on Newstalk presents 'Letters From Midwinter' by independent producer Susan Dennehy.
'Letters From Midwinter' will be broadcast on Sunday March 7th 2021 at 7am and on Saturday March 13th 2021 at 9pm. It is also available as a podcast. 
This radio feature reflects on the experience of women in Ireland between 1970 and 2020 through their personal letters, giving a rare and poignant insight into their personal lives.
The brainchild of Independent audio producer, Susan Dennehy, this documentary includes letters written by women aged between 16 and 88, letters written to daughters, mothers, friends, sisters and even to the women themselves. The letters (which for the most part were not written for publication) provide a unique insight into the private conversations between women never heard before.
Letters are the conversations that take place between us when we are apart. Often when distance divides us, our instinct to reach out to each other is so strong that we put pen to paper – we write letters to express love or friendship, to resolve our differences & move forward, to share joy or loss at moments in our lives, to ask for help, to vent outrage at injustice, or simply to be heard at times when we have felt silenced…
Dennehy put out a call for letters in the national papers and on social media. 'Initially there was nothing and then suddenly the tweet got re-tweeted (a lot!) and the letters started to come in. Slowly at first, one by one, and then lots of letters came'.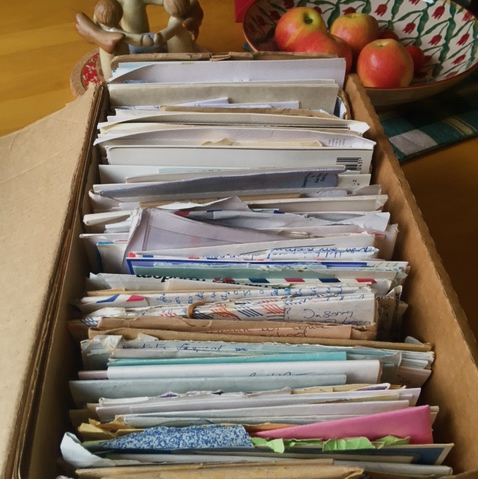 The first letter to arrive was a wonderful letter written in 1974, it was from a mother to a daughter who had just emigrated to Australia. The letter captures the love between them and the absence of the daughter in the family home. Home, or the lack of a home is a major theme in the many letters. The final letter to arrive was written by a 19-year-old woman living in Direct Provision to her best friend in Africa. The letter was very moving, and it very much highlights that the dark times are far from over for women living in this country.
'What was extraordinary was the goodwill towards the project – a lot of women wanted to contribute. They delved under their beds and went into attics to retrieve boxes of precious correspondence, they asked friends to photograph letters. Many said they laughed a lot reading back, some cringed and some shed a tear. I feel very privileged to have received so many letters and I hope that this feature will celebrate the character of these women and reflect their experiences – the times of warmth and laughter as well as the winters and the hardship they have endured.' – Susan Dennehy, Producer.
'Letters From MidWinter' originally aired on Newstalk on Sunday December 20th 2020.
'Letters From Midwinter was produced, written and narrated by Susan Dennehy.
The Researcher and Script Editor was Joanna Marsden.
The programme was funded by The Broadcasting Authority of Ireland Sound and Vision Grant.
With support from An Post.
The letters featured are original letters sourced through a national call-out through the media and through an extensive mail-out to organisations that support women. In some cases, names and dates have been changed, in consultation with the letter owner, in order to protect the privacy of individuals.
The actors who voiced the letters were:
Máire Ní Ghráinne, Felicia Olusanya (aka Felispeaks), Ali White, Jennifer O' Dea, Molly Hanly, Bláthnaid Moore and Megan McDonnell.
Permission was granted by Nichola McKee Corner, Legal Representative of Lyra McKee's Estate, for the use of Lyra's letter to her 14-year-old self in the documentary.
Original Artwork by Design by Dara Ní Bheacháin at
Queen Bee
Post production by Moynihan Russell Studios