There are 5,959 new COVID cases in Ireland, the Department of Health has announced. 
640 hospital patients have been diagnosed with the virus, of whom 121 are in ICU. 
The five-day moving average has risen from 4,089 to 4,357.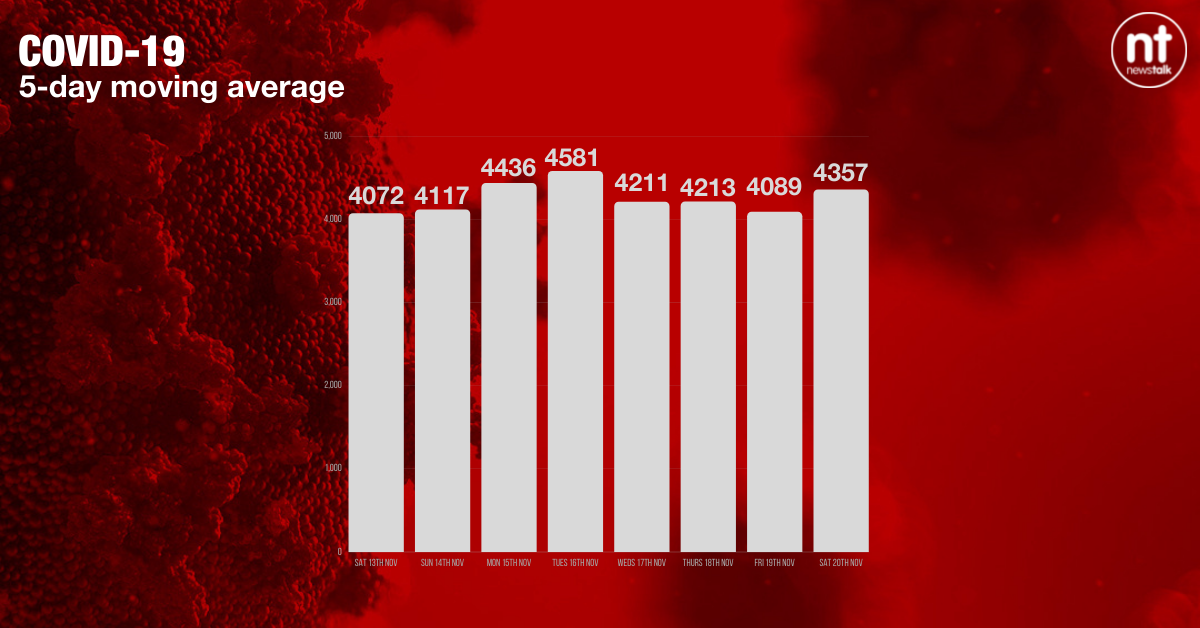 The surge in cases will be of no surprise to Chief Medical Officer Dr Tony Holohan who said on Wednesday: 
"In the last 14 days, we have been notified of almost 55,000 cases of COVID-19. 
"The only time we have had more cases in a 14-day period was in January this year, and, unfortunately, we do expect this figure to increase in the coming days."
While Taoiseach Micheál Martin told Cork's Red FM that he could not rule out further restrictions before Christmas: 
"This isn't about any one particular time of the year. We have to deal with waves as they come and as they emerge. 
"We've got to look at the overall picture and what are the overall objectives about managing a pandemic and they have to do with mortality, keeping deaths down [and] reducing severe illness."
Lockdown
This week's figures have been so high that NPHET member and Director of the National Virus Reference Laboratory, Dr Cillian de Gascun, told The Anton Savage Show that a return to lockdown could not be ruled out: 
"From a personal perspective, I don't know what's going to happen over the next couple of weeks. Obviously, NPHET will meet again this week and [the] Government continues to keep up to date with the figures. 
"We don't want to go back to lockdown because we know there are very negative effects associated with that. 
"But at the same time we also need to protect our health service, we need to protect society and we need to save as many lives as we can." 
He continued that as the Delta variant was a lot more infectious than the original strain, then any further restrictions would have less of an impact than they did during the original lockdown:  
"I think we're in a very worrying situation. We can't continue on the trajectory that we're on at the moment. 
"If you think about it as a conversion rate if you like; so for every thousand cases at the moment between 15 and 20 people will end up in hospital. 
"Some will end up in ICU and some will die. 
"So if we're at a 7 day average of maybe 4,100 cases a day, or there or abouts, and it's increasing. It's increasing in at least 20 counties around the country, the epidemic is growing.
"That is very concerning." 
Main image: A medic from the Indiana National Guard conducts testing for COVID-19. Picture by: Indiana Air National Guard Staff Sgt. Justin Andras.