On Valentine's Day 1991, The Silence Of The Lambs was released in cinemas.
Based on the hugely successful 1988 novel by Thomas Harris, the movie similarly went on to become a runaway success - a $19 million budget brought back in $272 million worldwide (which works out at over half a billion when adjusted for modern ticket prices and inflation) - as well as becoming something of an anomaly in terms of the Academy Awards.
While other horror movies have won Oscars before - The Exorcist won for Best Adapted Screenplay, Rosemary's Baby won Best Supporting Actress, and The Omen won for Best Original Score, amongst others - and horror movies have also been nominated for Best Picture (The Exorcist, Jaws, The Sixth Sense, Black Swan), but Lambs stands alone in being the only horror movie to win that top prize.
On top of that, Lambs is one of only three movies to win 'The Big 5' - Best Picture, Director, Actor, Actress and Screenplay, an accomplishment it shares with It Happened One Night and One Flew Over The Cuckoo's Nest.
In hindsight, with all of that success, it's interesting just how different it all could have been.
Initially, Gene Hackman had acquired the rights to the novel, with a sight to both direct and star in the role of Hannibal Lector. Not long into the adaptation process, Hackman dropped out, and producers hooked up with Jonathan Demme, who had just completely his minor hit Married To The Mob.
Demme had initially set to cast his Married To The Mob leading star Michelle Pfeiffer in the role of Clarice Starling, who ultimately turned the part down, admitting that the subject matter had made her nervous. Thankfully, hot off her Oscar-win for The Accused, Jodie Foster was adamant on getting the role once she'd read the novel, and Demme ultimately hired her as the rookie FBI agent.
For the part of Lector, Demme initially approached Sean Connery, who turned it down, and the part was offered to both Daniel Day Lewis and Derek Jacobi. Ultimately, Demme was watching a screening of The Elephant Man, and upon seeing Anthony Hopkins' performance in that movie, offered the psychopathic serial killer role to him.
Leading up the movie's release, the promotional poster campaign was launched, leaving many visual clues to the themes of the movie.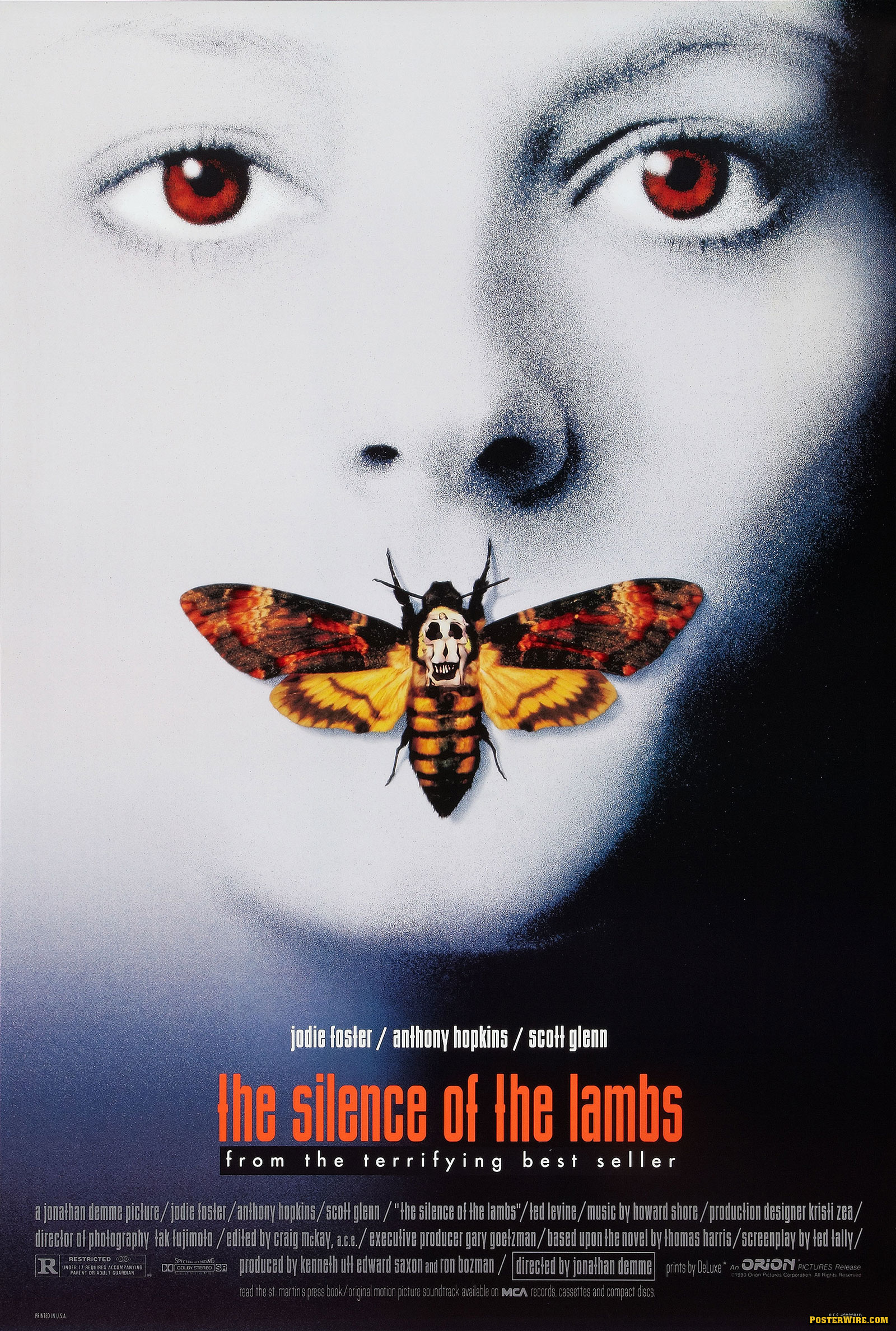 Along with the moth imagery - alluding to Buffalo Bill's desire to transform - there is also the skull image at it's centre. Based on Salvador Dali's In Voluptas Mors, the skull actually consists of six naked women, hinting towards Buffalo Bill's victims.
Upon release, the movie received almost universal critical acclaim, and on top of the Oscar wins, Hopkins and Foster also won the BAFTAs for Best Actor and Actress, and Foster also picked up the Golden Globe for Best Actress.
Since then, the movie has been listed regular on the American Film Institute's 'Best Of' collections, including coming in 65th in the 100 Best Movies Of The Last 100 Years, the 6th Best Hero in Movies (for Clarice Starling), and top the list in Best Villains in Movies (for Hannibal Lector). "A census taker once tried to test me. I ate his liver with some fava beans and a nice Chianti," also arrived at #21 in the publications 100 Best Movie Quotes.
In it's aftermath, Hollywood sat up and tried to recreate the classy serial killer thriller aspect of Lambs, which resulted in some great results (Se7en) and some shameless facsimiles (ironically, Copycat comes to mind). Ridley Scott's Hannibal followed in 2001, but working from a divisive source novel, wasn't met with much love. A prequel Hannibal Rising arrived in 2007, which was universally derided.
It would be 2013 before Hannibal would be returned to a state of critical acclaim, thanks to the much-loved NBC series, which ran for three seasons. Thomas Harris has not published any work since his 2006 Hannibal Rising novel, but there was an eleven year gap between The Silence Of The Lambs publication and it's follow up, so you never know. Hannibal may return before long.