Ahead of Thursday's crucial Premier League Project Restart meeting, it is understood that as many as 10 Top Flight clubs are opposed to relegation should the season be curtailed.
All 20 clubs are set to vote on what to do if the season has to be curtailed at that shareholders' meeting on Thursday.
Clubs, as many as 10,  mostly in the lower part of the division are reportedly against relegation happening if the season cannot be fully completed.
Officials from the Premier League are recommending a simple points-per-game formula to work out league placings if the season has to be abandoned, for example, if there is a second wave of coronavirus infections or a new lockdown enforced by the UK government.
Were the points per game method to be used now Bournemouth, Villa and Norwich would go down. An alternative formula, according to the Irish Times, weighting to reflect home and away results, would see West Ham take Bournemouth's place in the bottom three.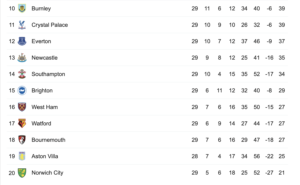 One argument against the points per game method is, that teams with a tougher looking run of games straight after the restart could be affected disproportionately if they cannot play games that look easier on paper further down the track.
For instance, West Ham begin with games against Wolves (sixth in the table), Chelsea (fourth) and Tottenham (eighth) but still have to play fellow relegation candidates Watford (17th)and Villa (19th) at home.
Whereas Bournemouth, currently third bottom, start with games against Crystal Palace (11th), Wolves (sixth) and Newcastle (13th).
While Watford, who are hovering just a place above the dropzone on goal-difference, are set to play Leicester (third), Burnley (tenth) and Southampton (14th).
Teams have returned to contact training just this week following the pandemic enforced lockdown. The action is set to resume behind closed doors on June 17th with a full programme of Premier League games the following weekend.