It is a monumental day for Irish football. The top nations in Europe have arrived on these shores for the 2019 UEFA European Under 17 Championship.
Ireland are hosting the 16 team tournament. 32 games will take place in seven venues across four counties over the next 16 days. Tallaght is the venue for the Republic of Ireland's opening match against Greece this evening. The west Dublin ground will also host the final on the 19th May.
Ireland's Group A rivals Czech Republic and Belgium kick off the first game of the tournament at Tolka Park at noon.
The home team play the Czechs at the RSC on Monday and return to Tallaght to take on the pool's top seeds Belgium on Thursday.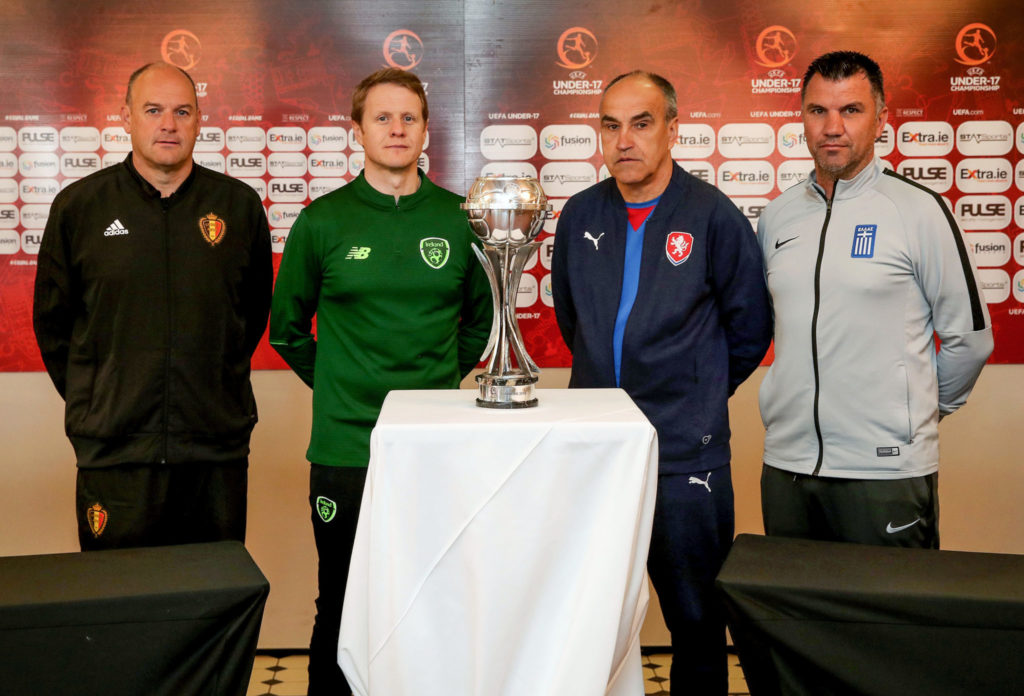 Zinedine Zidane is expected to jet in in the coming days to watch his son Theo play for France. The French go head to head with England in Longford this evening. The Netherlands, who are also in Group B, start the defence of the title against Sweden in Waterford. There is a Group D clash between Italy and Germany in Tallaght tomorrow and Austria take on Spain in Bray.
The top two teams in all four groups progress to the quarter-finals.
Ireland are appearing at the tournament for the third year in a row. They reached the last eight in both 2017 and 2018, suffering a controversial quarter-final exit last year. They lost a penalty shoot out to the Dutch who went on to lift the trophy. Goalkeeper Jimmy Corcoran was sent off after stepping off his line during the spot kicks. The Preston North End net minder is back in the squad, but is suspended for tonight's opener against Greece.
World Cup qualification is also up for grabs over the next few weeks. The top five teams will represent Europe at the global tournament in Brazil later this year.
Matches
Friday 3 May:
Group A
Czech Republic v Belgium: 12:00, Tolka Park
Republic of Ireland v Greece: 19:00, Tallaght Stadium.
Group B
Netherlands v Sweden: 17:00, Regional Sports Centre.
England v France: 19:00, City Calling Stadium.
Saturday 4 May:
Group C
Iceland v Russia: 14:00, Home Farm.
Hungary v Portugal: 19:00, UCD Bowl.
Group D
Spain v Austria: 16:00, Carlisle Grounds.
Germany v Italy: 18:30, Tallaght Stadium.
Monday 6 May:
Group A
Belgium v Greece: 17:00, City Calling Stadium.
Republic of Ireland v Czech Republic: 19:00, Regional Sports Centre.
Group B
Netherlands v England: 15:00, Tolka Park
France v Sweden: 17:00, Tallaght Stadium
Tuesday 7 May:
Group C
Iceland v Hungary: 12:00, Home Farm FC
Portugal v Russia: 15:00, UCD Bowl.
Group D
Italy v Austria: 19:00, City Calling Stadium
Spain v Germany: 19:00, Regional Sports Centre
Thursday 9 May:
Group A
Belgium v Republic of Ireland: 19:00, Tallaght Stadium
Greece v Czech Republic: 19:00, Carlisle Grounds
Group B
France v Netherlands: 16:30, UCD Bowl
Sweden v England: 16:30, Home Farm FC
Friday 10 May:
Group C
Portugal v Iceland: 17:00, City Calling Stadium
Russia v Hungary: 17:00, Regional Sports Centre
Group D
Italy v Spain: 19:00, UCD Bowl
Austria v Germany: 19:00, Carlisle Grounds
Knockout phase
Sunday 12 May:
Quarter-final 1 or 2: 13:00, Tallaght Stadium
Quarter-final 1 or 2: 19:00, Carlisle Grounds
Monday 13 May:
Quarter-final 3 or 4: 16:30, Tolka Park
Quarter-final 3 or 4: 19:00, UCD Bowl
Thursday 16 May:
FIFA U-17 World Cup play-off: 12:00, Tolka Park
Semi-final: 16:30, UCD Bowl
Semi-final: 19:00, Tallaght Stadium
Sunday 19 May:
Final: 15:30, Tallaght Stadium