Ireland Head Coach Joe Schmidt was full of praise for Japan as he reflected on his side's shock seven-point defeat to the Rugby World Cup hosts on Saturday morning.
Schmidt named his team for Thursday's clash with Russia in Kobe earlier, with Johnny Sexton set to captain his country from the start for the first time in his career.
Japan were 19-12 winners in Shizuoka, and Schmidt said if it hadn't been against his team, he'd have been delighted for the hosts.
"We've got to make sure that we don't become passive in a game against an opposition playing in front of their home crowd and you'd have to be really impressed by how they got themselves back into the game.
"You know if it wasn't us that lost to them, I'd say 'Woah' that's fantastic for the tournament isn't it? I mean everywhere we've gone the Japanese people have been incredibly excited about the game... and I think local interest has been spiked by it.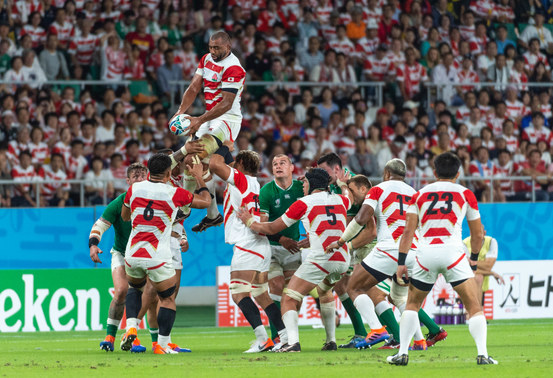 Schmidt also observed that the Japanese win meant an increased interest in the tournament generally.
"We had a group of Japanese schoolchildren at training today, we trained with the Kobe Steelers who were superb, and everyone's got a spring in their step.
"It's great for our pool if you're an independent observer, because it's thrown the pool wide open, and everyone's chasing Japan in our pool now."
Discipline has been an issue that has arisen in a number of Irish press conferences, but Schmidt says officials have revealed they got some decisions on Saturday wrong.
"We did put ourselves on the back foot and partly went on to the back foot. I think we got penalised for offside four times, we've now got the feedback that three of those were incorrect calls.
"People are asking us about our discipline, it's pretty hard to keep getting off the line and be on the front foot when you are getting those calls... two of them were from an AR (assistant referee) who's going to be refereeing us on Thursday [against Russia] so we know we're going to have to be on our best behaviour.
"Generally speaking it's unusual for us to have a higher penalty count than our opponents, and so it's frustrating that in these first two games... we've got to try to look after that as best we can."
Ireland's game against Russia in Kobe on Thursday morning gets underway at 11.15 am Irish time.