There has been one Irish winner of the €175m Euromillions jackpot.
One Irish ticketholder has matched five numbers and two stars for Tuesday's draw.
The winning numbers were 01, 08, 18, 19, 39 and the Lucky Stars were 07 and 09.
The jackpot eclipses the previous record Euromillions Irish win of €115m by Limerick woman Dolores McNamara in July 2005.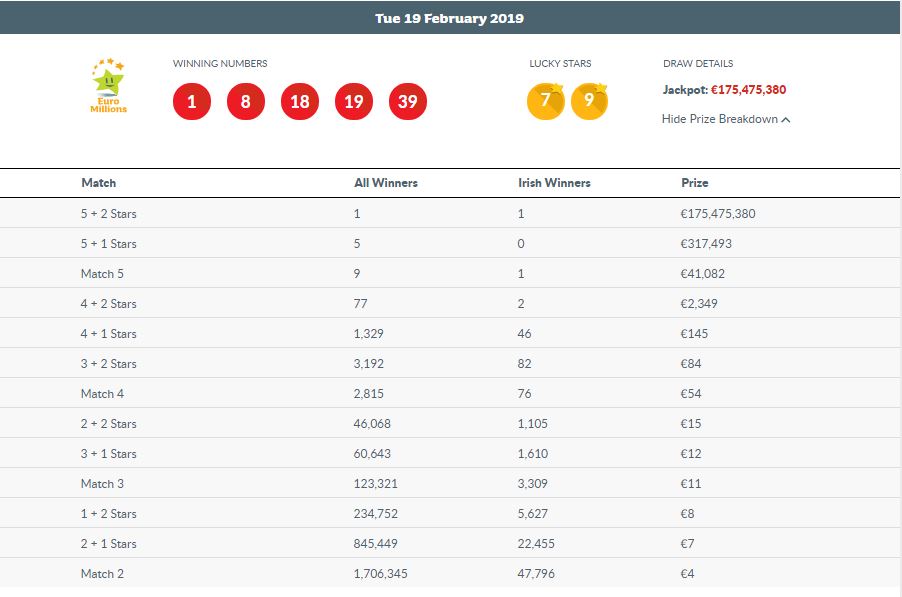 Image: National Lottery
The National Lottery cannot yet confirm exactly where the lucky ticket was sold.
Spokesperson Miriam Donohoe has said the winner should stay calm and make contact with them on Wednesday morning.
"It's the biggest ever National Lottery draw-based game win in the history of the lottery since we launched 31 years ago.
"We're advising all of our players to check your numbers to see if you are the holder of this golden ticket.
"If you do have this ticket please keep it safe, sign the back of it, contact us tomorrow as soon as you can and we'll guide you through the claims process".
It will take a number of days before the money from partner Euromillions countries will arrive in Ireland.
National Lottery CEO, Dermot Griffin, added: "The shop that sold the winning ticket will not be revealed for a few days.
"With such a big win we have procedures to go through but we will reveal the winning location as soon as we can.
"Whilst this is a massive win it can come as a shock to a player and we advise them to stay calm, get good independent legal and financial advice and contact us as soon as they can."
It is the 14th Irish Euromillions win since the game was launched in Ireland in 2004.
The jackpot has been rolling for several weeks.
The maximum Euromillions jackpot of €190m has only been paid out three times ever in its history.
The game is played in nine countries.