A Japanese airline has introduced a way for passengers to ensure they do not get seated beside a screaming baby.
When passengers are selecting a seat for their Japan Airlines flight, a baby emoji will appear where children under two are seated.
Explaining the policy, Japan Airlines said: "Passengers traveling with children between 8 days and 2 years old who select their seats on the JAL website will have a child icon displayed on their seats on the seat selection screen.
"This lets other passengers know a child may be sitting there."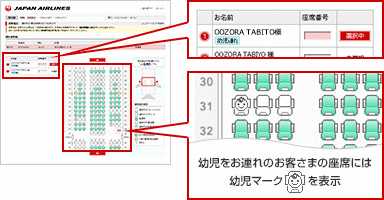 The icon won't be displayed when seats or booked as part of a tour, or when selected through services other than Japan Airlines' own site.
The airline's move has received a mixed reaction on social media.
Japan Airlines passenger Rahat Ahmed welcomed the option, suggesting it "really ought to be mandatory across the board".
Thank you, @JAL_Official_jp for warnings me about where babies plan to scream and yell during a 13 hour trip. This really ought to be mandatory across the board.

Please take note, @qatarairways: I had 3 screaming babies next to me on my JFK-DOH flight two weeks ago. pic.twitter.com/kQYQFIqqCD

— Rahat Ahmed 🇧🇩🚀 (@dequinix) September 24, 2019
While many also voiced their support for such measures, others called for sympathy with parents who have to travel with young children.
Mr Ahmed added in a follow-up tweet: "1/ Adults can be just as bad as babies. 2/ Empathy is important and every situation is different. 3/ Where babies sit can be one of many indicators that help travelers plan flights."
Main image: File photo of a Japan Airlines Boeing 777 at Singapore Changi airport in Singapore. Picture by: Markus Mainka/DPA/PA Images