There are 5,622 new confirmed cases of COVID-19, the Department of Health has confirmed. 
487 in hospital have tested positive for the virus, of whom 114 are being treated in ICU. 
The five-day moving average is now 4,894 - up from 4,691 yesterday.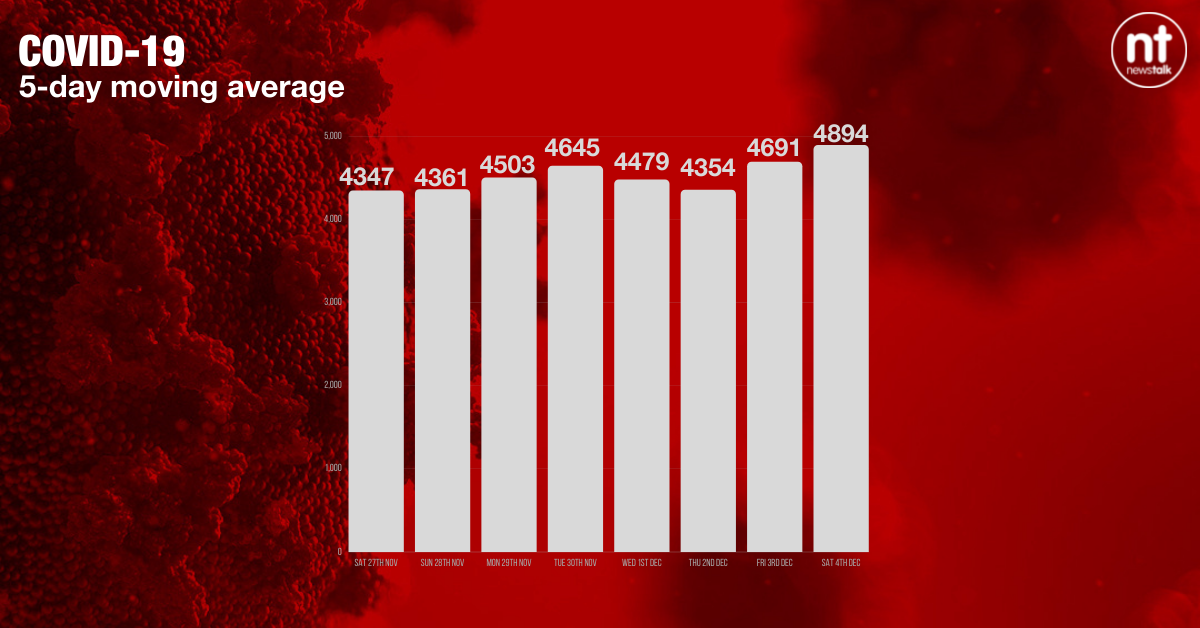 Return of restrictions
The news comes as the Government announced the return of the so-called 'rule of six' in bars and restaurants. From Tuesday only six people will be allowed to sit at a table and masks must be worn away from the tables. 
Nightclubs have shut until January, while entertainment and cultural events must operate at 50% capacity. 
Singer Mary Coughlan told Newstalk that the restrictions left her in tears: 
"Yesterday I went to bed crying," Ms Coughlan admitted. 
"The frustration and the pain of me telling my band on a weekly basis, 'This gig is gone, that gig is gone.' 'Is it going to happen?' 'I don't know.' 'Will there be funding?' 'I don't know.' 'Will we go back on the PUP [Pandemic Unemployment Payment]?' 'I don't know.'
"So they all went off the PUP when the gigs started rolling in and now the gigs are rolling out again." 
NPHET
Hugh O'Connell, political correspondent for The Irish Independent, said that the imposition of new restrictions has led to tensions between politicians and the scientists who sit on NPHET: 
"Over the course of yesterday's meeting, which from talking to people involved in that meeting, was certainly a very tense affair and certainly was a marked departure from what has been very cordial and good working relationships between the Government and its public health advisors over the course of the last few months." 
NPHET members will now have to obtain permission from the Government's press office before they talk to the media. 
"Really this is an attempt to deal with what ministers believe has been mixed messaging and some poor communication issues over the last few weeks," Mr O'Connell said. 
"Which has seen, at some stages members, of NPHET seemingly at variance on the public health advice with what the Government position is."
Main image: A sign advertising a COVID-19 test centre. Picture by: Leah Farrell/RollingNews.ie