There have been 4,764 further confirmed cases of COVID-19 in Ireland.
As of 8.00am on Thursday, 598 patients are hospitalised with the virus - 126 of these are in ICU.
The five-day moving average of cases has fallen slightly to 4,428.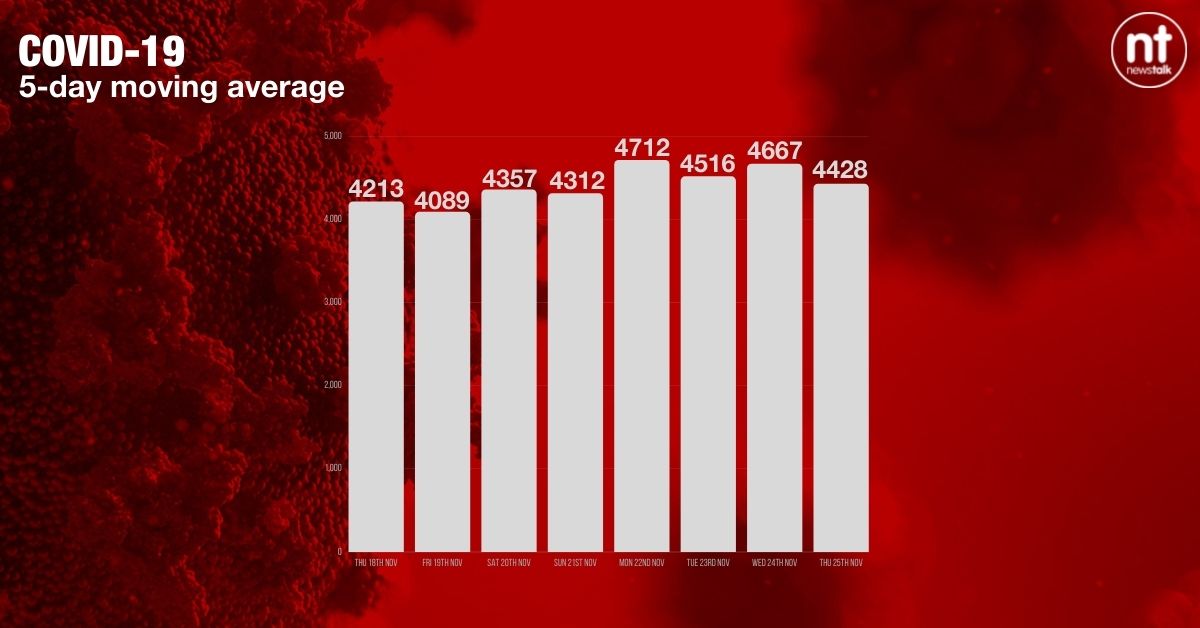 Dr Tony Holohan, Chief Medical Officer, says more than 62,000 cases have been reported in the last 14 days.
"Incidence of COVID-19 remains concerningly high, with 62,401 cases reported in the last 14 days.
"We need to continue to make every effort we can to drive down incidence of disease and break the chains of transmission.
"COVID-19 spreads when an infected person is in close proximity to other people.
"The best way we can stop COVID spreading to the people we meet is by meeting fewer people and avoiding crowds."
"If you are socialising, think about the risk associated with the activities you have planned."
Dr Holohan says there are steps people can take to stay safe.
Wear a mask correctly
Meet outside if possible
Avoid poorly ventilated indoor spaces
Practice good hand and respiratory hygiene
Be mindful of your contacts in the days after socialising, and especially consider anyone you meet who may be immunocompromised or vulnerable to COVID-19
Dr Holohan adds: "If you experience symptoms isolate immediately and arrange a PCR test – not an antigen test".
It comes as almost 6,000 HSE staff are absent from work due to COVID-19.
The executive says it is a big concern for the health service, and has not seen this level of absenteeism since late January.
CEO Paul Reid says it is obvious people are responding to new restrictions on working from home and advice to cut social contacts.
"We're seeing a very strong response from the public over the last week, 10 days in particular.
"Many people - and it's very obvious - now have moved to work from home, and certainly many people have planned to curtail activities.
"This will be needed for a sustained period of time, and we need to continue all of the actions."
While Chief Clinical Officer Colm Henry says the situation is tough on the already exhausted staff.
"The whole healthcare system [is] under quite significant strain at the moment with limited capacity, despite the extra surge capacity we were trying to put in.
"And of course dealing with the backdrop... of almost 6,000 staff now absent on COVID related leave, which places additional strain on an already exhausted workforce".
Main image: Chief Medical Officer Dr Tony Holohan speaking at a Department of Health Covid-19 briefing in October 2021. Picture by: Sam Boal/Rollingnews.ie