There have been 3,578 new cases of COVID-19 in Ireland.
As of 8.00am there are 520 patients hospitalised with the virus, with 83 of those in ICU.
The five-day moving average of cases now stands at 3,551.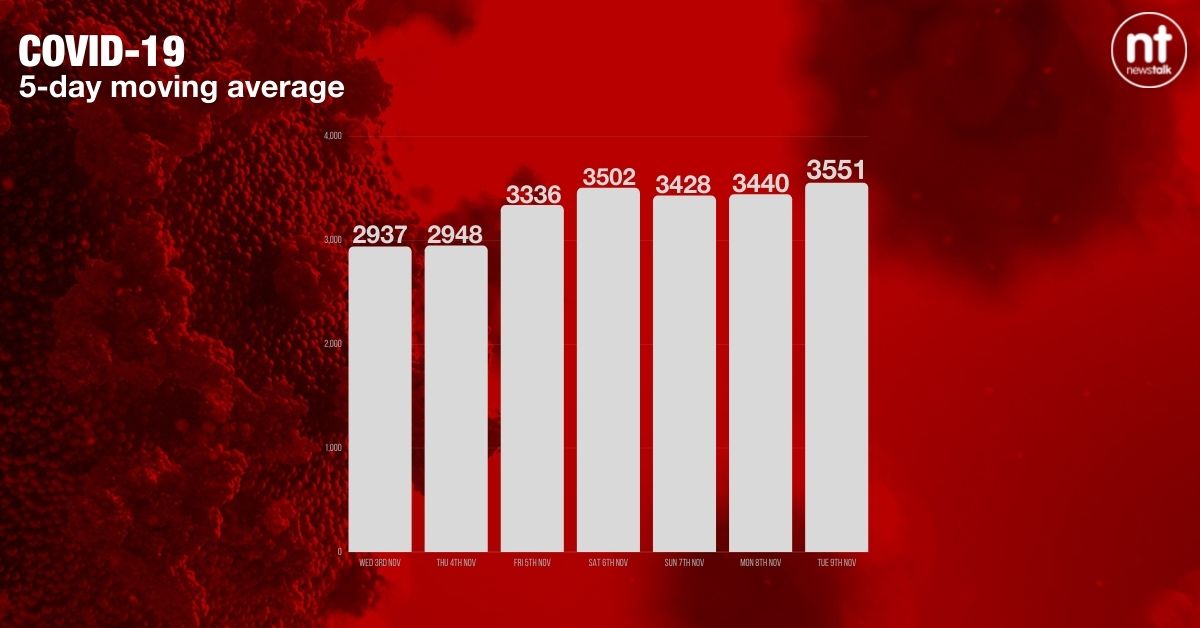 Dr Tony Holohan, Chief Medical Officer, says there have been more than 44,000 cases in the past 14 days.
"Today we are reporting 3,578 cases of COVID-19, with 520 cases in hospital and 83 in ICU.
"We have reported over 44,000 cases in the past 14 days.
"The volume of disease in the community is really very high and represents a significant risk to those who are most vulnerable in our society.
"We need to continue to use all of the tools available to us to protect ourselves and others.
"By layering all of the public health measures with which we are now so familiar, we can help to break the chains of transmission.
"Ensure that you are washing your hands regularly, wearing a mask on public transport and in other social settings, try to meet others outdoors and ensure that indoor spaces are well-ventilated.
"And of course it remains essential that anyone with symptoms isolates and gets tested."
It comes as hospitality lobby groups have sought harsher penalties for breaching COVID-19 guidelines.
Compliance with COVID rules in pubs and restaurants is "far higher" than ESRI research suggests, according to the Restaurants Association of Ireland (RAI).
An ESRI survey published on Friday found that 37% of customers in pubs and 34% in restaurants are not being asked for their COVID Certs.
It found that one-in-five customers are now taking precautions like mask-wearing less than half the time.
Respondents also said that, while they themselves are following the guidelines, their sense that others were doing so had "dropped significantly."
The RAI is calling on the Government to enforce fines and closures on bars and restaurants not checking for Digital COVID Certs.