There have been 19,290 new confirmed cases of COVID-19 in Ireland.
Latest figures show 1,062 patients are hospitalised with the virus - of whom 92 are in ICU.
The five-day moving average of cases has dropped back slightly to 22,526.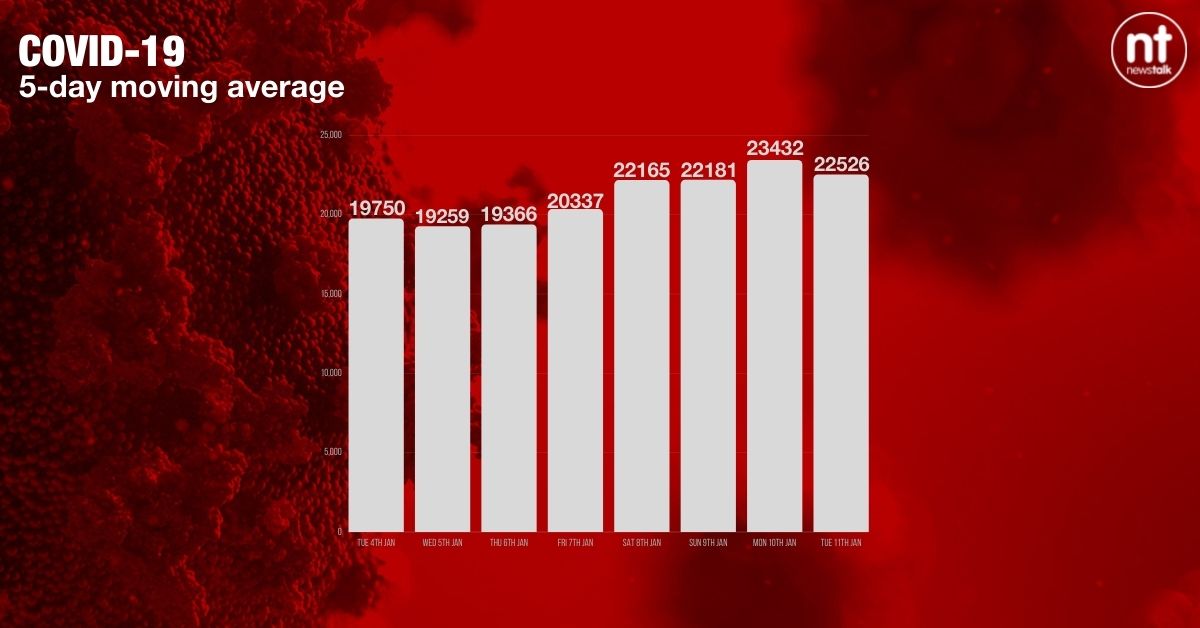 It comes as Health Minister Stephen Donnelly confirmed he has received updated public health advice.
Among the changes are that boosted close contacts of a confirmed COVID-19 case will no longer have to restrict movements.
While the isolation period for those who test positive is also to be set at seven days, regardless of booster status.
Minister Donnelly told The Hard Shoulder he will be recommending the advice is approved by Cabinet on Wednesday.
He said the current requirement for people in certain groups to get a confirmatory PCR test after positive antigen test is to be be dropped.
While those who are boosted currently have to isolate for seven days - and those unboosted for 10 days.
But Minister Donnelly said: "The recommendation is that it just becomes seven days for everybody.
"So essentially if you test positive, you haven't had your immunity boosted, the isolation period - the recommendation is - it's being reduced from 10 days to seven days.
"I think that'll be well received as well."
And on close contacts, he said they really want to free up people.
"We really want to try and ease the burden on people, we're very very aware of how difficult it is for people themselves, for their employers, for their communities with so many people being asked to restrict their movement if they're a close contact."
Currently close contacts with a booster have to restrict movements for five days.
"That requirement would go completely: so no restricted movement if you have boosted immunity", Minister Donnelly added.