Five rates of Pandemic Unemployment Payment (PUP) will be available to people who lost their jobs as a result of the Government's latest COVID-19 restrictions.
The payments will range from €150 to €350 a week, depending on what people were earning before losing their jobs.
The move comes despite the PUP having previously been closed to new applicants, and the original rates having been cut during the reopening process.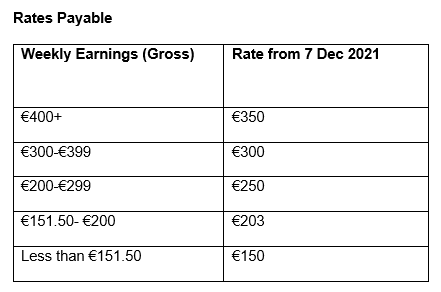 It comes ahead of new restrictions coming into effect from tomorrow, amid concern over the high number of COVID-19 cases and concerns over the new Omicron variant.
All nightclubs will have to close until January 9th.
Restaurants and bars also have to implement strict social distancing rules - including no multiple table bookings and no counter service.
Indoor events can only have 50% capacity - a move that has already led to a number of concerts and other events over the Christmas period being cancelled.
Social Protection Minister Heather Humphreys said PUP was being reopened for a 'limited period' to support anyone who loses their job directly as a result of the new restrictions.
She said: "PUP will be open for those who are directly impacted from Tuesday 7th December.
"As has previously been the case, the rate of PUP will be linked to a person's previous earnings and there will be 5 rates of payment available, ranging from €150 to €350 per week.
"This is not where any of us wanted to be - however, reopening PUP for those directly impacted will provide vital support during these difficult times."
The hospitality sector met with Government ministers this morning, with CEO of the Restaurants Association of Ireland Adrian Cummins describing the meeting as productive.
He said it largely focused on the COVID-19 Restrictions Support Scheme (CRSS) for businesses.
Speaking yesterday, Finance Minister Paschal Donohoe said the Government 'fully understands and appreciates the shock' the new restrictions have caused for impacted workers.
He said the PUP would be returning at a 'higher rate' due to people finding themselves without a job again 'nearly overnight'.
Main image: Heather Humphreys. Photograph: Leah Farrell / RollingNews.ie