More than 700,000 people are depending on social welfare payments since the coronavirus outbreak.
Some 500,000 of those are receiving the special €350 a week COVID-19 Pandemic Unemployment Payment.
On March 16th the Government introduced the payment to help those who have been temporarily laid off as a result of the pandemic.
New figures from the Department of Social Protection show 507,000 people received the €350 per week payment last Friday.
That is an increase from just 283,000 a week ago.
With 205,000 people on the Live Register getting the normal Jobseekers Benefit, it means 712,000 citizens are relying on social welfare payments.
All payments will be in bank accounts and post offices from Tuesday.
The department says it is developing its online process to prevent people entering incorrect data, to reduce the number of invalid applications its receiving.
It has received some 46,000 ineligible applications.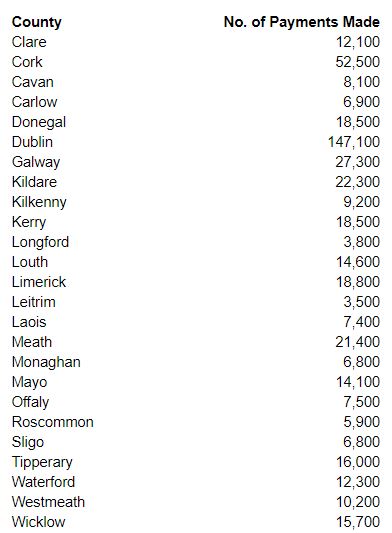 Minister for Social Protection, Regina Doherty, said: "The scale of demand for the COVID-19 payment demonstrates the once in a century nature of the emergency facing the country as we face this unique emergency.
"The focus of my department is to ensure that we get assistance to all who need it as effectively and quickly as possible and I would like to acknowledge the innovation, commitment and energy of all my staff who have moved mountains to meet this historic challenge.
"For the duration of this emergency, we will publish weekly updates on activity regarding our COVID-19 response.
"This is a temporary health emergency and the Government is determined that it won't be a permanent economic one."
Last week figures showed 513,000 people were on the Live Register or receiving an income support payment due to the pandemic.
The figures from the Central Statistics Office (CSO) showed the the coronavirus crisis had a significant impact on the labour market during March.
The unadjusted Live Register total was at 205,209 for last month - made up of 113,268 men and 91,941 women.
The seasonally adjusted total for March was 207,200, up 24,400 from February.