Ireland has recorded 4,181 new COVID cases today, the Department of Health has confirmed. 
668 hospital patients have been diagnosed with the disease, while 125 are being treated in ICU. 
The five-day moving average has dropped slightly from 4,357 to 4,312.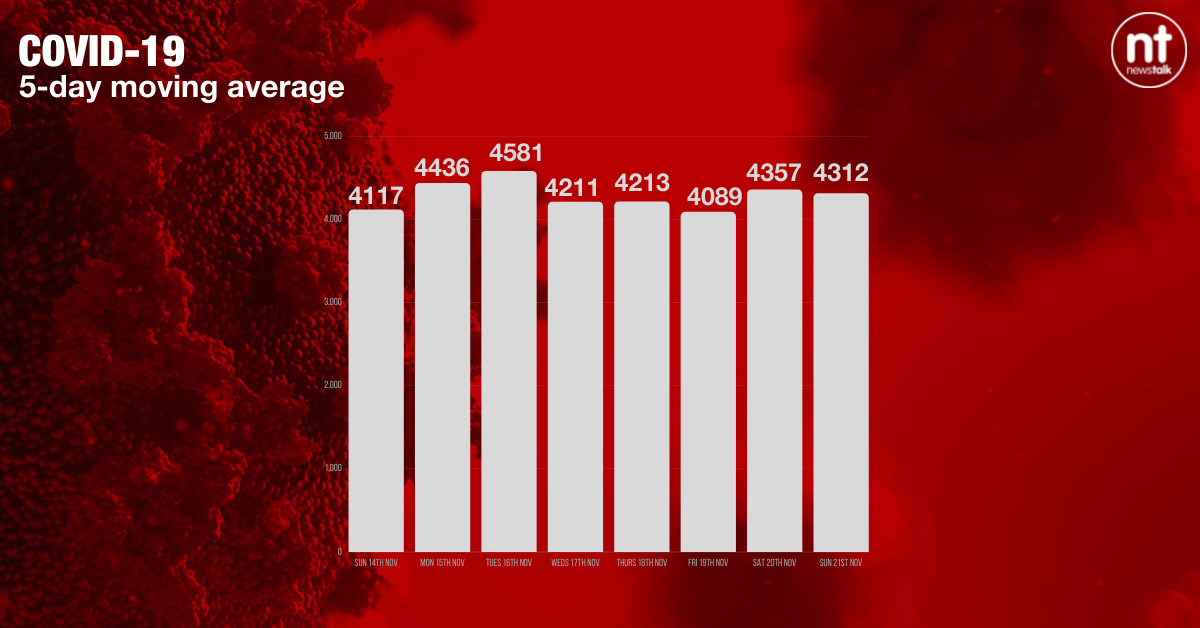 The number of patients in intensive care is the highest number since February this year and Chief Medical Officer Dr Tony Holohan has warned the public that COVID is once again "placing an enormous burden on our entire health system."
Dr Holohan added: "We can turn this around through small but vital individual and collective actions." 
Such actions include anyone with symptoms getting a PCR test, restricting who you meet and doing so outside when possible, wearing a mask and isolating if you test positive for COVID. 
.@CMOIreland: "Focus on these 5 actions to reduce your risk and keep yourself and your family safe over the coming weeks:

1. If you have cold or 'flu symptoms isolate immediately and get a PCR test, not an antigen test

2. Prioritise who you need to meet

— Department of Health (@roinnslainte) November 21, 2021
Cancelled operations
Meanwhile, infectious diseases expert, Professor Sam McConkey of the Royal College of Surgeons, told Newstalk he believes Ireland's fourth wave will peak in a few weeks time.
However, he added that he expects hospitals will have to delay operations to cope: 
"It's very different now from the first, second, third wave because we tried really, really hard to keep everything else going.  
"Hospitals have been doing lots of normal healthcare up until the last few days. That's probably at crisis point now and we're going to have to cut back on scheduled care because there just isn't enough room. 
"Running out of staff is a big issue, it's not just about beds or ventilators." 
Booster rollout
Professor McConkey believes that the rollout of the booster programme over the coming weeks should lead to a drop in infections before Christmas: 
"Many of us hope that with the decrease in social contacts that we really hope for over the next few weeks, that the number of cases will initially level off and then start to come down somewhere between two to four weeks from now. 
"By then most of the unvaccinated will have been infected and a lot of the under 12s who are going to be infected will have been infected. 
"And then hopefully the boosters will also kick in and then cases will start to drop again."
Main image: Dr Tony Holohan puts on a mask. Picture by: Leah Farrell/RollingNews.ie