There are 3,428 new confirmed cases of COVID-19 in Ireland today, the Department of Health has confirmed. 
478 people in hospital have tested positive for the virus, of whom 75 are being treated in intensive care. 
The five-day moving average of cases has dropped slightly to 3,428 - down from 3,502 yesterday.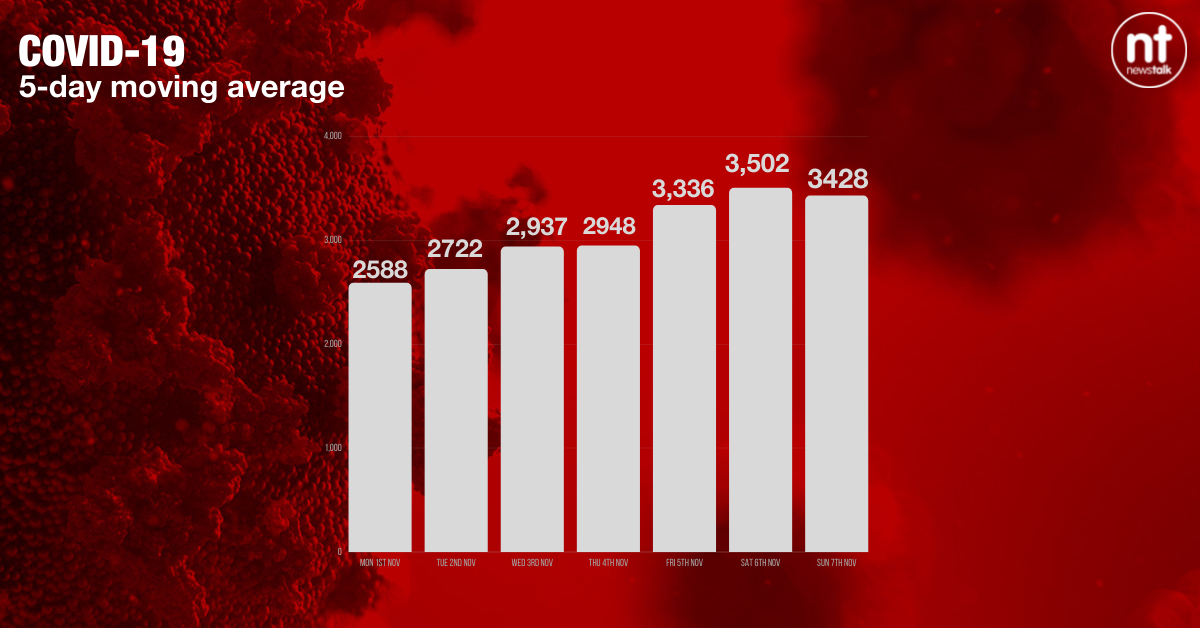 Cases have not reached the level predicted by Tánaiste Leo Varadkar, who told Newstalk on Friday that he expected daily case numbers to reach 4,000 at some point soon: 
"The situation is fragile but stable.
"We are seeing very high case numbers… we expect, in part because of rising case numbers and a backlog that needs to be validated, cases will hit 4,000 in the next couple of days."
The Tánaiste added: 
"It's important we don't fixate on daily case numbers, because they tend to bounce around.
"I think it is possible to get through the winter without more restrictions - but nobody can rule out that possibility."
Contact tracing
Meanwhile, Health Minister Stephen Donnelly has said that contact tracing in primary schools could resume soon. He stressed that no decision has yet been made - but that it was "an ongoing conversation between Minister [for Education] Norma Foley, Dr Holohan and myself as to using rapid testing for contact tracing."
The Minister was also keen to stress that schools overall are safe environments: 
"The data is showing very, very clearly that there is infection and the vast majority of that infection is happening in households. It's not happening in the schools… Nonetheless, cases are rising, there has been a call for rapid testing to be used and it is something we're looking at deploying."
Main image: A testing centre in Athlone, Westmeath. Picture by: Eoin Healy/Alamy Live News