All this week we have a brand new iPhone 11 up for grabs thanks to ESB, to celebrate ESB Science Blast. We're giving you two chances to win – on Moncrieff and The Hard Shoulder!
ESB Science Blast, delivered by the RDS, empowers primary school children to work together as a class and investigate the science behind a simple question that interests them. They then present their findings at one of three showcase events in Belfast, Limerick or Dublin. The Dublin event runs till this Thursday March 5th at the RDS.
Some questions under investigation this week include:
Can you turn farmyard manure into energy?
Will people be able to tell the difference between real and synthetic flavours?
How could the Two Little Pigs have better built their homes using sticks and hay?
Which hurley should I use if I want to play County? Ash or Plastic?
Does exercise improve our mental ability?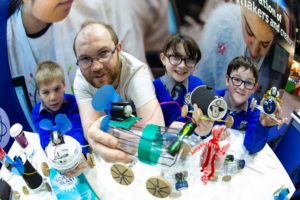 For more see HERE
Tune into Moncrieff from 2pm and The Hard Shoulder with Ivan Yates from 4pm for your chance to win
Terms & Conditions
Prize is the iPhone 11 256GB. Prize is not transferable