In some cases, movie-makers will end up making more money from the movie-marketing tie-ins than they will from the actual movies themselves.
While there's always going to be the obvious toys and clothes and video-games, some movie marketing people have occasionally tried to think outside of the box. While turning The Spire into a light-saber for The Force Awakens was a flash of pure inspiration, not everything works out quite that well.
Here's a look at ten movie tie-ins we've discovered that really shouldn't have made it past the brainstorming session.
DEL MONTE DANIEL CRAIG ICE LOLLY - CASINO ROYALE
While the prospect of putting Daniel Craig in your mouth will entice and horror people in equal measures, there is still something about the entire thing that just genuinely upsetting. There's a reason why food isn't usually formed into the shape of people, and that reason is the subliminal fear of cannibalism. The man from Del Monte, he should have said no.
VIBRATING MAGICAL BROOMSTICK - HARRY POTTER & THE PHILOSOPHER'S STONE
We don't have to spell this one out, do we? Just in case it's too subtle, this toy does NOT look suitable for kids. It looks suitable for that 45-year-old Harry Potter loving lady that you know who dresses up as Sexy Moaning Myrtle every Halloween.
MONOPOLY - BATMAN & ROBIN
Poison Ivy and Mister Freeze are taking over Gotham, and the only way the Dynamic Duo can defeat them is to... buys lots of property? Correct us if we're wrong, but Bruce Wayne is already pretty rich, and already pretty much owns most of Gotham, so doesn't he have an unfair advantage here? We're thinking too much about this.
JAR JAR BINKS LOLLYPOP - STAR WARS: EPISODE ONE - THE PHANTOM MENACE
As much as we all hated Jar Jar Binks - and we did all hate him - that doesn't mean we're willing to slowly dissolve away his tongue. With our mouths. While he looks at us, jaws agape, starring back at us in pure horror.
ALARM CLOCK AND DUMBBELL - THOR
Using weights to work out to look like Thor? Yeah, okay we can see that. Telling the time ... like Thor? Okay, it's a stretch, but we guess the God Of Thunder likes to be punctual, so we'll allow it. But are you seeing the problem here? The alarm goes off, you reach across to turn it off, and it just rolls off your desk and smashes everything in it's path.
PLAY SHAVING SET - TRANSFORMERS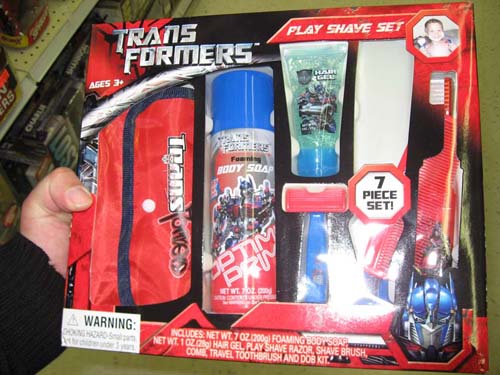 "Ages 3+"? What three year old wants to pretend to learn how to shave? And how exactly does a metal-faced (and therefore entirely hairless) robot alien serve as an appropriate ambassador for such a thing? No, no. This is all wrong.
COLOGNE COLLECTION - THE AVENGERS
We're guessing Tony Stark smells pretty great, but probably not after a few hours inside of the Iron Man suit. Captain America's fragrance ("Patriot") and Thor's ("Worthy") could literally smell of anything, while those wanting to smell like The Hulk really need to realign their wants and needs from this life.
ALFRED HITCHCOCK'S BARBIE - THE BIRDS
On the one hand, no child in their right mind would want this. On the other hand, WE want this quite badly, because it's actually every shade of amazing. We're just happy they stopped here and didn't try to make a Barbie to tie-in with Psycho...
TEDDY BEAR CHRISTIAN GREY - FIFTY SHADES OF GREY
"This movie is sexy, and deals with submissives and dominants and sadomasochistic exercises like bondage and pain thresholds. What should we use to tie-in with those ideals?"
(long silence)
"Never mind, let's just make a teddy-bear."
CHOPSTICKS - ALIEN
Every fan of the Alien series knows that you don't want any of these things near your mouth. However, any Alien fan out there who knows what they mean by "Big Chap", please do let us know!